Bamber's winning style has put him in front of the big names.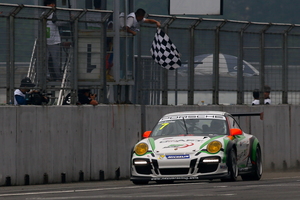 While most of us are concentrating on what the Kiwi drivers are doing in Europe and America, another young New Zealander is taking on the best Porsche drivers in Asia in the Porsche Carrera Cup Asia.
Earl Bamber, another graduate of the Motorsport NZ Elite Motorsport Academy, is leading the series from established drivers such as Martin Ragginger and Rodolfo Avila.
Bamber is also a New Zealand Grand Prix winner, Toyota Racing Series and Formula V6 Asia championship runner up and has stood on the podium three times during his short A1GP career.
In the last round of the Porsche Supercup in Hungary, he was a substitute driver in a one-off gig in the support class for the world Formula One championship.
He acquitted himself well qualifying just inside the top 10 and brought the car home in a creditable 15th place, holding off vastly more experienced drivers than himself.
"My result in Hungary wasn't too bad and a little better than we expected," said Bamber. "We had more potential than we showed and we had the pace but no luck. But it was a fantastic opportunity.
"It was a great experience and I'd like to go back and do some more Supercup races."
Bamber has been the man to beat in the Asia one-make series, winning four races and being on the podium another four times.
The series entry list reads like a who's who of Porsche racing in the region, and also has several European drivers.
With two rounds to go, Bamber has his nose just in front of the highly regarded Ragginger.
"Martin's an ex-junior driver and very close to a factory driver so he's one of the quickest guys in a Porsche," Bamber said. "It's quite a challenge to race against him and some of the other guys.
"In my last race, Ragginger jumped the start and then he started to cause a bit of chaos in front. I went to pass him, we made contact and he decided to cut the circuit.
"When he came back on he cut across me to go back into the lead forcing me and another driver into the barriers.
"I had to then pit and almost went a lap down but the safety car helped. I then went from 24th to 10th in about four laps," said Bamber.
With only a couple of races to go, Bamber's mind is now set on accumulating points rather than going all out for the win.
His next race is in Singapore as a support for the Formula One race towards the end of next month.
"That's going to be brilliant and Craig Baird is coming up for that one. He's still one of the fastest guys in the world in a Porsche, and I'm looking forward to seeing how well we all go against him. And on top of that I'll be continuing my battle against Martin and the other drivers - it'll be a fantastic event."
The Kiwi got the gig in Asia by being proactive and asking people he knew if they could get something organised so that he could go racing.
The team, Nexus Racing, run by team principle Adrian D'Silva with help from series organiser Ian Geekie, doesn't have a vast amount of money but always manages to scrap a budget together to go racing - and put the frighteners up more established and better-funded outfits.
"I love the racing up here, it's very competitive and professionally well organised," Bamber said. "I think the common perception is that it's a whole bunch of locals running around but nearly all the teams are Supercup teams.
"It's a difficult championship because you've professional guys who have been doing it for the past five or six years and they drive Porsches all day long.
"We're on a tight budget so it really makes it a David and Goliath type of thing at the moment.
"The guy chasing me in the series [Ragginger] is basically a factory driver and is sponsored by Porsche Holdings. It's great to benchmark myself against these guys and compare my ability against the internationally rated guys."

Porsche Carrera Cup Asia points
1 Earl Bamber 157
2 Martin Ragginger 144
3 Rodolfo Avila 127
4 Keita Sawa 109
5 Ho Ping Tung 103
6 Benjamin Rouget 83
7 Jason Zhang 76
8 Alexandre Imperatori 73