Ex demo models with keen price and extras worth considering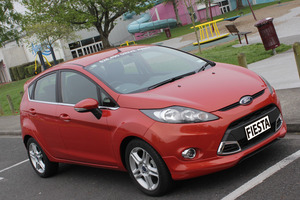 The dilemma: Rochai lives in the city and just needs a hatchback but now it's time to replace the Nissan Pulsar with a new car.
"I like a little grunt so nothing smaller than 1.5-litre but is economical at the same time. I also travel on the open road at times so need a car that can handle travelling and has a good safety rating," said Rochai.
"I would like as many bells and whistles as I can get also as I like getting bang for my buck."
On the maybe list are ex demo, automatic Mazda2 and Holden Barina though the popular Suzuki Swift is off the list due to small interior and the Honda Jazz is too expensive.
Well Rochai, you need to be very careful you don't eliminate a particular make/model based around personal dislikes then bring it back into contention based solely on price. Remember your new purchase is going to be part of the family for a while, so you don't want to have regrets or make too many compromises.
Do you really want to drive a car you find boring or one with inadequate power or not enough interior space? If the answer is no then we should at least look at some other options in your price range.
The beauty of buying an ex demo is there should be a significant price reduction from the suggested retail price plus there will be no additional on-road-costs and you may find a host of accessories already fitted to the car. In addition you inherit the outstanding warranty.
Be careful, however, as those dealers who are not offering ex demos (or even those who are) may sell a brand new vehicle at a heavily reduced price anyway. Plus they may throw in accessories and a service plan to clinch the deal. Often a dealer's biggest competition comes from within their own network such is the competition to make a sale. The budget:$22,000-24,000
The shortlist
Ford Fiesta Zetec
A five-door hatch stacked full of goodies to make your drive enjoyable, safe and easy on the wallet. If it appeals in terms of interior space and looks, then this car can be purchased at well below the current recommended Ford NZ retail price of $27,490. Some Ford dealers are currently advertising 1.6-litre, six-speed auto brand new for $24,790 drive away which includes on-road-costs of around $900. Ex-demonstrator models are selling for just under $24,000.
Toyota Yaris
While this five-door hatch may not have the instant appeal of the Fiesta it still offers good practicality, reliability, build quality, safety and value for money. The car is also well laid out in terms of interior space. The listed retail price is $27,780 (plus orc) for the 1.5-litre, four-speed auto. We found pre-registered examples (travelled 10km only) from $23,900 and even a Sport variant with larger alloy wheels, factory body kit and boot spoiler for $23,990.
Kia Rio LX
I know your preference was for a bigger engine but the Rio is worth a look. The base model may lack the bling you want but it comes full of safety features plus driver aids such as rear parking sensors and Bluetooth. The 1.4-litre, four speed auto is available at some Kia dealerships pre-registered (less than 1000km on clock) for $21,880 drive away. Official retail price is $23,490 (plus orc).
Driven recommends
Make your first stop the Ford dealership.