Riders rave about fun race, says Andy McGechan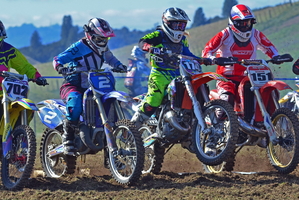 The annual New Zealand TT Championships were flush with first-time winners this season.
Taupo's Ben Townley (Honda), Stratford's Camo Keegan (Honda), Taihape's Sarah Elwin (Yamaha), Turangi's Brendon Dally (Yamaha), Inglewood's Steve Holmes (Honda), Kaiwaka's Cullen Curtis (Honda) and Mangakino's Maximus Purvis (Honda) each collected their first TT titles at the two-day event, held on farmland near Kuratau, at the southern tip of Lake Taupo.
TT racing is a unique motorcycling code but is similar to motocross in that it's run on a dirt track. But with the course set out on a flat paddock, without steep hills or jumps to slow the riders down, it also acquires some of the characteristics of road-racing and riders do reach some scary speeds - at least until the track cuts up rough, and that can be a bit frightening too.
Townley and Keegan also scored double victories - Townley winning the MX1 and enduro class titles and Keegan snatching the ATV open class and ATV 450cc production class titles.
Townley's double win was perhaps the most significant, not only because he won the premier MX1 class but because he is a former world, American and New Zealand motocross champion and he has never tackled this event before.
"It was so much fun," said Townley afterwards. "All the Taupo boys raved about how much fun this would be and they weren't wrong. It was certainly a bonus to win two national titles along the way."
The other first-time winners were also thrilled with their weekend's success. Elwin won the women's crown, Dally won the over-45 years' veterans' title, Holmes ruled the over-50 years' class, Curtis took the junior ATV class win and Purvis won the junior 8-12 years' 85cc/150cc class title.
The only repeat winners this year were Waitakere's Ethan Martens (Yamaha), who successfully defended the national MX2 crown he won for the first time last year, New Plymouth's Mitch Rowe (KTM), who again won the veterans' over-35 years' class, Auckland's Craig Ridgley (KTM) and Taupo brothers Cohen and Wyatt Chase (both on KTM bikes).
Cohen won the junior 125cc/250cc and national 125cc classes while younger sibling Wyatt won the 13-16 years' 85cc class.
Martens' MX2 victory wasn't as straightforward as he would have liked, although he showed some remarkable fighting qualities.
The 21-year-old crashed in the first MX2 race of the weekend but he battled back to salvage third place at the chequered flag. However, it did mean he had dropped a handful of points and was forced to play catch-up to fellow dual-class campaigner Brad Groombridge (Suzuki), of Taupo, in the races that followed.
But with a string of wins, Martens soon retook the points lead and eventually secured the title with a 3-1-1-1-1 score-line over his five MX2 races.
"I crashed in that first MX2 race because I underestimated how soft the berm in the corner was. But I fought back. Everything went well after that, though, and I won all the other races," said the 21-year-old Martens.
"This event is so much fun. It's wide open, fast, and the track is so wide, there are plenty of opportunities to pass."
Groombridge finished the event runner-up to Martens in the MX2 division, with fellow Taupo man Cam Dillon (Honda), taking third spot on the podium.
Groombridge also finished runner-up to Townley in the MX1 class, with dual-class rider Martens this time settling for third overall.