Custom versions of the Ford van are set to take on the posh utes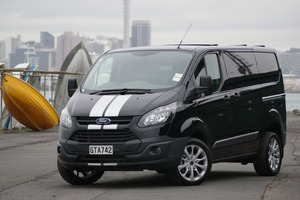 As we all know, pickup trucks have become the new SUVs. The rapid rise of utes into machines of high style and high equipment levels has meant many are worthy rivals for the flash off-road wagons favoured by so many.
What you may not know is that vans are becoming the new pickup trucks, which means that vans will soon also become the new SUVs. Trust us on this.
Actually, vans have always been on the cutting edge of the light commercial world: while utes lumbered along for years with boxy styling and old-tech engines, vans - particularly those from Europe - broke new ground with weird looks and the latest diesel technology.
Utes have upped their game in recent years, of course: the Ford Ranger proves that. But is a Ranger any match for the sports-car-like attitude of the new Transit Custom? I think not. Although you can think what you like.
The Transit has always epitomised van-cool anyway. But Ford has taken things a step further with the latest model by splitting it into two.
At the more compact end is the new Transit Custom, which has styling inspired by the Fiesta and a maximum payload of 1170kg. So it's a one-tonne model that truly takes on those posh utes. And therefore those posh SUVs.
Custom is the sports model of the van-world: for those wanting something larger and more functional, still to come in 2013 is a new full-size model which will continue to be known simply as Transit. In the same way that you have a Range Rover Sport for the enthusiast, then the larger model known simply as Range Rover.
Consider the Custom specs and you'll see an enthusiast vehicle crying out for a bit of, ahem, customisation. It has three-up seating, like a McLaren F1.
It has a six-speed manual gearbox, the lever just centimetres away from the steering wheel like so many great sports cars. It has torque vectoring control like a Porsche: power is apportioned and adjusted between the driven wheels instantly depending on available grip, to maximise traction out of tight corners.
The good news is that with the $49,490 Transit Custom model available here, Ford New Zealand has already done a little bit of the hot-rodding for you. It has chosen Custom with the most powerful of three engine options available: a 2.2-litre turbo-diesel with 114kW/385Nm (more torque than a Fiesta ST, you know). It also comes in the shortest of three wheelbases available from the factory: 2933mm.
Ford has gone a bit further with the press-evaluation Custom pictured here. Possibly inspired by a model available in the United Kingdom called Transit Custom Sportvan, it has added silver go-faster stripes (although they might actually make it go slower due to the extra weight) and sporty looking alloy wheels. Love it.
What's it like to drive? Unfortunately, Custom still sounds like a van from the inside. But the ride and handling are excellent, the driving position commanding and the cabin features luxurious. Custom boasts Ford's Sync voice control system, iPod integration, cruise control and even a shift indicator.
High performance goes hand-in-hand with high efficiency these days, of course. Custom has features like stop-start and intelligent regenerative charging of the battery. Combined economy is an impressive 6.6 litres per 100km.
It is too nice to carry stuff in, but if you insist, the Custom has a vinyl-sealed load floor, 3m load length with an extra load-through bulkhead opening and the facility for a retractable roof rack.
The A Team showed how it could be done
Custom vans are really an American creation: the trend grew in the 1960s and 1970s, on the back of the ''conversion van'' industry, adding luxury and/or personalised features to spacious light-commercial vehicles.
But the beauty of a great van is that it takes so little to create the impression of heavy customisation. It even works for pretty average vans, as in the case of what is arguably the world's most famous pop-culture light-commercial: the 1980s GMC Vandura featured in The A-Team television show.
I say ''1980s'' because there were so many examples used, which may or may not have had the same grille designs, badge colours and accessory fittings. All they really
had in common was the three-colour paint job (grey on top, red stripe and black underneath) and those red, turbine-style alloys. That was enough.
But really, the world is your oyster with a big, boxy van. Consider the lengths you can go to with a humble Transit.
Many custom vans do their best work when parked. But not always in a naughty way: consider ''Cannes In A Van'': since 2007, a Transit-based mobile movie theatre has
taken independent movies to the streets of Cannes during the city's film festival. The project was started by two enthusiasts, but for the last two years has been supported by
Ford. This year's model is the latest Transit Custom.
At the other end of the scale, you can turn a van into a proper supercar. Ford wheeled out its legendary Transit-based Supervan 3 at the Goodwood Festival of Speed this month. The one-off machine was created in 1994 and features a mid-mounted 3.0-litre V6 supercharged engine by Cosworth.
Supervan 3 rides on racing tyres and suspension and is good for 240km/h. The van driving position remains, but cargo capacity is zero: the rear compartment is full of
engine and transmission.