Eric Thompson looks at the stars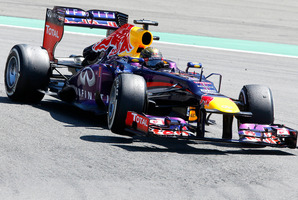 Sebastian Vettel has a healthy lead over Fernando Alonso with four wins to two in the Formula One championship - but the weekend's Hungarian Grand Prix is only the halfway point of the season,
It would be churlish not to give Vettel an A for his work so far. On past form the German is a leading contender to collect another title.
Alonso looked to be the best sparring partner for Vettel at the start of the championship but has dropped off the pace recently so gets a B+.
Kimi Raikkonen, who has brought a bit of excitement and character back into the sport, has been there or thereabouts for most of the year. To move from B+ to an A grade he needs to push on a bit more.
Mark Webber has decided to move into racecars with a roof. As a true professional he hasn't thrown in the towel and will be more than happy to get one over his more favoured teammate. For that alone he deserves a B+.
Lewis Hamilton has been a bit of a revelation at Mercedes, quickly coming to grips with his new steed. Now he's split from his showbiz girlfriend he's concentrating on his homework and it shows. A high B+, on the cusp of an A-.
Nico Rosberg is beginning to showcase the talent many thought was there earlier in his career. A more reliable car could result in him getting more than an A-.
As for the rest? A simple "must do better and work harder" will appear on their report cards.
Those are our ratings. What's the view of former Ferrari works driver Chris Amon, who went up against the best of his era?
"What's made it difficult this season are the issues with the tyres," he says. "And to make it even more of a lottery the tyres have all changed again.
"In all honesty it's a bit of a bloody nonsense. I know the tyre situation has provided a bit of entertainment, but are they going to be able to race on these new tyres, or do they have to conserve them?
"From a purist's point of view, it detracts from the art of racing."
Something had to be done after the fiasco at Silverstone where tyres were exploding left, right and centre.
While some teams have been able to test the new compounds, none have been used in the heat of battle.
"We still don't know if the new tyres will be any better than the old ones, other than not delaminating, and they still might not be any more durable," says Amon.
At least the tyre problem is the same for all the teams. We won't know what's going to happen until midway through this weekend's race.
Amon has a few thoughts about the newbies in the series.
"Daniel Ricciardo seems to have improved markedly since Webber announced his retirement. He's impressive, as is his teammate Jean-Eric Vergne. It'll be good to see how those two will up their game now that there's a seat available at Red Bull.
"It's hard to gauge what the others further down the field are going to be like as they are so far off the pace. But Jules Bianchi looks good and I'd like to see him go further. He's part of the Ferrari Young Drivers Academy and it would be no bad thing to see him move up into the full team."
Of the established drivers, he reckons Hamilton has been a surprise and could be a thorn for the leading three.
"Lewis must have known something the rest of us didn't," chuckles Amon. "I thought I understood his reason to move - he might have been looking to the engine change next year and he'd be in the prime position to exploit that.
"I'd be very surprised if Mercedes don't come out with best engine straight out of the box."
Amon believes Raikkonen should stay where he is, rather than going to Red Bull. He's doing pretty well in a car that's not quite up to the standards of the Ferrari or Red Bull, but he's been managed well - that is, left alone.
"I remember talking to Francesco Pon when he was out here with the young Ferrari Academy driver racing in the Toyota Racing Series. He said when Raikkonen was at Ferrari they would debrief him for hours and hours when Kimi only needed 10 minutes. I don't think he'd fit well into the Red Bull environment."