Lowndes closes gap on Whincup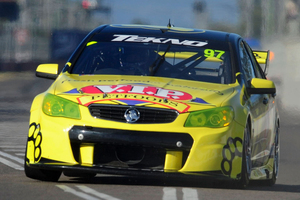 Jamie Whincup will have a wary eye on teammate Craig Lowndes as the V8 Supercars hit Queensland for the Ipswich 360.
Whincup has a slender 111-point lead over Lowndes and didn't have the best of weekends at the previous round in Townsville.
Lowndes didn't have a meeting to write home about either, but he at least picked up more points than Whincup and will be rubbing his hands in glee at the prospect of racing at "the Paperclip".
Lowndes has been unbeatable in Ipswich, winning the last five races - three in 2011 and two last year. He's finished in the top two in seven of eight races since 2009 and has 11 wins at the circuit, more than any other driver.
"We've had a great run there, and after testing last week there's no reason to think we're not in with a shot," he said.
"We're back on the soft tyres all weekend, which has worked well for us.
I think after a few things we learned from Townsville, we're in pretty good shape.
"We've made up 100 championship points since Darwin, so hopefully we can get a three-peat in Ipswich and claw him [Whincup] back some more."
On the flip side, his Red Bull Racing Australia teammate and championship leader is winless from eight races at Queensland Raceway since 2009.
While Whincup has scored four podium finishes over that time, he has only one win to his name at the Ipswich circuit. He hasn't qualified in the top four for the past four races in Townsville and Darwin.
On paper the track looks rather simple, but is a challenge for the engineers to get the car set up right for all the corners. There's a mixture of fast ones and stop-start affairs, and a bumpy surface. Teams will be struggling to get the cars to have good grip to carry speed through the flat-out sections without losing the rear-end grip needed to drive out of the slower corners.
The 60/60 Super Sprint format returns; today's race is over a pair of 20-lap sprints. There have been three 60/60 races this season and the wins have been shared between Fabian Coulthard (Symmons Plains), Lowndes (Barbagallo) and Whincup (Hidden Valley).
But no driver who has led after the first 20 laps has been able to go on and win.
Best of the Kiwi drivers is Shane van Gisbergen, fifth in the championship and 170 points off second.
"We should be pretty good this weekend," said Van Gisbergen. "We were testing last week so I managed to get a few laps in, but it didn't really help that much because of the new tyre-use rules.
"The car should be much better when we get some new tyres on it. Except early in the season when we had a few DNFs, we've been really consistent and picking up points at most of the rounds.
"We've had a few good race results and been on the podium. That, along with consistent finishes, has kept us in touch with guys at front of the championship."
The Holden Racing Team broke a 58-race losing run in Townsville with a one-two finish for Garth Tander and James Courtney, but they will have to overcome woeful form at Ipswich - neither has qualified in the top 10 for the past two years.
While the boys in the big bangers are thundering around Queensland Raceway, other young Kiwis will be in action overseas.
Mitch Evans continues his assault on the GP2 championship as a support class for the Hungarian F1 GP and is hoping for a turn of fortune. The Aucklander has qualified well but hasn't translated speed into points. After six rounds Evans is 11th in the championship.
Richie Stanaway is also at the Hungaroring, for the Porsche Supercup. After a rocket start Stanaway has slipped to eighth in the standings and is no longer the leading rookie. But he has tested at the track and knows it quite well.
Brendon Hartley has zipped back across the Atlantic for another Grand Am Rolex endurance event for his Starworks sports car team, the Brickyard Grand Prix at Indianapolis.
Flying the other way is US-based Matt Halliday, who's settling into his Audi R8 for the Total 24 Hours of Spa.