Great start to domestic career for international champ, writes Andy McGechan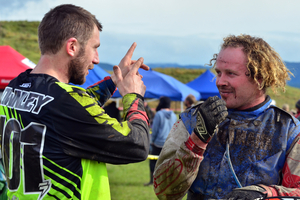 Tauranga motocross ace Ben Townley signalled an end to his international racing career four months ago, but that did not mean it was time for slippers and a cup of hot chocolate in front of the fireplace.
Neither did it indicate that the Kiwi bike fraternity would be hearing any less of Townley, quite the contrary in fact.
When the former MX2 motocross world champion dropped a bombshell at Easter by announcing his retirement from full-time professional motocross, he was just turning the page to start a new chapter in his life and, if anything, we are probably going to see a lot more racing from the Honda star as he turns his attention to the domestic scene.
The first big event he wanted to tackle at home was the 36th annual Honda Tarawera 100 cross-country race near Kawerau.
Townley had never been able to contest the gruelling off-road race in the past because his international commitments had always clashed with the running of the event.
But what a way for the 28-year-old father-of-two to make his debut, winning the 160km marathon by nearly five minutes from three-time and current national cross-country champion Adrian Smith, of Mokau.
Townley followed Smith (Blackwood BikesportNZ.com Yamaha YZ250) out of turn one, but he soon had the lead and increased the pace, gradually edging further ahead in each of his four 40km laps.
"I know Adrian is fit and fast and I didn't want him anywhere near me on the last lap, so I pushed hard to create a gap on him," said Townley (Carlton Dry Honda CRF450).
It could so easily have been a Honda 1-2, when Tauranga's Peter Broxholme (Botany Honda CRF450X) pushed through to second place, but he was always under pressure from Smith and gambled on a "splash and dash" re-fuel to stay ahead of Smith as he started his last lap, but it wasn't enough and he ran out of gas within sight of the finish, eventually having to settle for ninth place.
"I had come to this event when I was a kid and always wanted to race it," said Townley afterwards. "This was my first chance. I loved it. The race was awesome. It lived up to all my expectations."
Third overall was Taupo's Brad Groombridge (Action Suzuki RM-Z450), grateful to snatch the final podium spot when several riders ahead of him all had problems near the end of the final lap.
Fourth overall and under-19 years' class winner was Atiamuri's Hadleigh Knight (CMR Red Bull KTM 250F), a remarkable result for the 16-year-old on debut at the event.
Whakatane's John O'Dea (Husqvarna TC250) finished fifth overall to win the under-300cc four-stroke class, while Auckland's Liam Draper (Husaberg TE125) finished 13th overall and won the under-200cc class.
Thames rider Natasha Cairns (Husaberg TE125) finished 63rd overall to win the women's category, while the veterans' class winners were Te Puke's Phil Singleton (35-39 years, Honda CRF250), Taupo's Brett Morrow (40-49 years, KTM300) and Te Aroha's Tim Gleeson (over-50 years, Husqvarna TC450).