Championship organisers respond to driver demands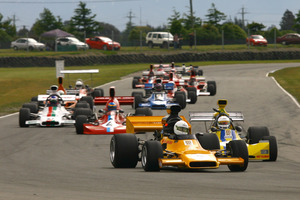 Kiwi drivers racing in the F5000 revival series have put their feet down. They've convinced the organisers to focus the championship around key classic and historic meetings in this country and to give them the opportunity to start competing across the Ditch.
They've also told the organisers to pay more attention to detail - under the skins of the V8-powered single-seaters and the way the cars are turned out.
The NZ Formula 5000 Association voted in a new management committee at its annual meeting in May. Outlining the changes, chairman Tony Roberts says this season's MSC F5000 Tasman Cup Revival Series will have an added twist.
There are four rounds carrying points in New Zealand and the option for Kiwi drivers to compete at four - or maybe five - non-scoring meetings across the Tasman organised by the Australian F5000 association.
"We were given a number of directives by our drivers at the annual general meeting," said Roberts.
"One that came through loud and clear was that we should support our key local historic and classic events."
Roberts was a founding member of the association in 2000, before combining with colleague Chris Watson to plan, build and manage the Hampton Downs circuit in northern Waikato.
He is joined on the new committee by regular competitors Aaron Burson, Ian Clements, Andrew Higgins and Tony Richards, and long-time category engineer and crew chief Barry Miller.
As well as a desire to focus on key rounds closer to home this season, members agreed the committee should make more of an effort to ensure all cars in the series - here and overseas - comply with the letter and spirit of the FIA Historic Regulations, which cover the category. "This means correct engines, correct aerodynamics, even correct period liveries. Engines will also be rev-limited this season, to keep costs down and maintain parity amongst competitors," said Roberts.
Since the first series at Pukekohe in September 2003, the New Zealand association has spearheaded a worldwide resurgence of interest in the stock-block, 5-litre V8, single-seater F5000 category. Although entries were down last season on their peak of three or four years ago, the number of cars being imported and rebuilt here in New Zealand continues to increase.
Last season the category had 88 owner/drivers with race-ready cars on its books. The majority are Kiwis (49 cars). Australia, with its domestic series now up and running, has 18 with 10 more from the UK.
Added to the Downunder contingent is former Lady Wigram Trophy winner Jay Esterer, from Canada. The rest are from the US.
More than 20 Kiwis are committed to contesting all four rounds of the local series with others set to do one or more. Four newcomers have cars on their way to being finished.
Four association members - three-time series champion Ken Smith (Lola T332), last season's runner-up Clark Proctor (March 71/A), Andrew Higgins (Lola T400) and Tim Rush (McLaren M22) - have entered the first two rounds of the Australian series in late August and early September.
Other drivers may ship their cars across the Tasman for the Phillip Island Classic in early March. The category may become a support class to the Australian Formula One Grand Prix in Melbourne a week later.
2013-14 MSC F5000 NZ Calendar
Round 1 Nov 8-10 Manfeild
Round 2 Jan 17-19 Hampton Downs
Round 3 Jan 24-16 Hampton Downs
Round 4 Feb 1-2 Ruapuna
Australia Cup (invitation rounds)
Round 1 Aug 31-Sept 1 Sydney
Round 2 Sept 13-15 Sandown 500 (V8 Supercars)
Round 3 Nov 8-10 Sandown historic meeting
Round 4 March 7-9 Phillip Island classic meeting
Round 5 (TBC) March 14-16 Australian GP