US visitor keeps Ford on map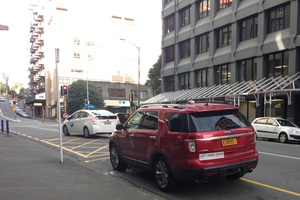 A current-model Ford Explorer spotted in Wellington last week is not necessarily here as part of replacement plans for its Australian cousin - but it has raised interest.
Photographed on The Terrace, the left-hand-drive, Victorian-registered vehicle was labelled as an "Engineering Evaluation Unit", and was fitted with a GPS aerial on the roof.
With Ford set to end production of its Australian Falcon-based line-up in 2016, including the large Territory SUV, the spotting of a current model Explorer could be seen as a hint that the model will be heading south. Ford's "One World" strategy aims to have one vehicle for each category worldwide, rather than multiple platforms.
The Explorer was last sold in New Zealand in 2006, although the new vehicle is somewhat different to the old body-on-frame SUV.
Released in 2011, the new model shifted to a car-like unibody structure and from big engines to a range of more economical units including the 2.0-litre Ecoboost four-cylinder seen here in the Falcon, and a 3.5-litre V6 in normally aspirated and turbo-charged versions.
Ford New Zealand spokesman Tom Clancy says the vehicle is here for mapping purposes, and not as part of plans to bring the model to New Zealand.
"The 2011 Ford Explorer from North America is loaded with laptops, a new NAV system only available on the LH-drive Ford Explorer currently, and a team of engineers - one each from Ford NZ, Ford Australia, Ford North America, Nokia, and TeleNav," Clancy explains.
"They've been using the Explorer to drive mapped roads to validate and re-check roads/intersections and other various roading attributes in New Zealand and Australia."
Clancy says they will be testing destination inputs and results to make sure they're accurate.
They will also conduct a mix of quickest route and shortest route drives to make sure they are optimised.