Jacqui Madelin enjoys a spin in a classic X1/9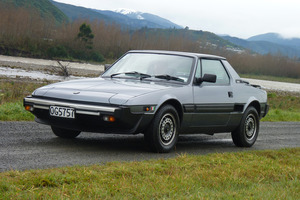 No one could be keener on classic cars than Mark Stockdale, a regulations adviser with the Automobile Association.
He has five Fiat 2300s, including a rare 1965 wagon, the only one left on the road in New Zeaalnd. Plus a Renault Alpine, a Citroen XM and the car we're here to drive, the eyecatching little Fiat X1/9, a tiny wedge of metallic origami with a design dating back to 1972, when it launched with a 1.3-litre engine. But this one is from 1989, one of the last, built by Bertone from 1982 and identical to the original, bar a 1.5-litre engine and small changes to the footwell to increase legroom. "It drives like a 1970s car too," Stockdale says.
None of his vehicles are daily drivers. He walks to work and keeps one in town for the weekend commute to his Upper Hutt shed. Unfortunately, he says, that trip is all on the motorway. "Except for the XM my cars come into their own on back roads - they want corners."
Mark bought the X1/9 from its original owner, "I guess it was her midlife crisis, her toy.
It had only done 24,000 miles (38,625km) when I bought it five years ago."
He already had the 2300s but the X1/9 was on his shopping list, "mid-engined, perfect handling, 50-50 weight distribution and basic engineering. The whole is greater than the sum of its parts and it's a lot of fun to drive." He figured the 1.3-litre variant was under-geared and underpowered and wanted a 1.5. The Fiat club alerted him to this car. "It was virtually as-new. They're known for rusting but it had been garaged all its life." He did some homework and went through it with a list of things to watch for. And so did the owner. "She rang the club president and vetted me as a buyer. It was like a job interview. But I swear there were tears in her eyes when I drove away, she was letting go of a friend." He's kept the car original, bar an upgraded stereo and a leather Bertone steering wheel and gear lever because he didn't like the feel of the originals.
He says Fiats are good value, cheap to buy and own, "And the Italians know how to make fun cars that put a smile on your face."
The X1/9 is tiny but the front and rear boots are relatively roomy. The engine is tucked right behind your ears, with 118Nm at 3200rpm and 62.5kW at 6000rpm from a single carb, single overhead cam "so it's not cutting edge but it's very flexible and it suits the car".
It's purring away behind us as we trickle through town, dropped down into the low seats. Mark drives it mostly in summer, when he takes the targa roof off, but we've left it on in deference to an approaching storm.
The independent suspension is firm in town but impressive on the tight and bumpy Akatarawa Rd. It clings flat to corners, communicating every lump and bump through seat and wheel, yet it's not uncomfortable.
The simple little engine sounds keen and surprisingly throaty. You need to be in the right one of the five gears to get much from it, but when you are it's zesty and flexible.
I've heard they're prone to oversteer. Mark discovered that once, but the tyres weren't at their best and since getting these new ones he's seen no sign of it. Certainly it feels beautifully balanced today, despite the wet roads and I'm wishing it was dry - and I didn't have the owner breathing down my neck - for already I can see why he loves it. Given a tight road it's a blast to drive briskly, though it's not especially frugal, averaging 9.4l/100km. "New cars are safer - and that is important to me, but I walk to work and don't need a car for transport. You get the full experience in a classic car, driving becomes an occasion. And you have to drive them differently - they all have their own foibles." As for the X1/9: "The X1/9 is a car you drive for the hell of it."