Outcomes far from grand back in the day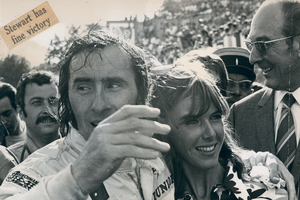 Former motor racing champion Jackie Stewart looks back onhis life and is haunted by the number of friends he lost in fatal crashes in an updated version of the 1971 film Weekend of a Champion, which screens at the Auckland Film Festival next Monday.
The film, directed by Frank Simon and presented and produced by Roman Polanski, tells the story of the Scottish racing star's Monaco Grand Prix victory.
It has been updated by Polanski with a postscript interview with Stewart.
Polanski takes Stewart back to the same hotel room where, over breakfast in his underpants in 1971, the champion demonstrated his driving technique using a matchbox and a racing track drawn on a table cloth.
Remembering the fatalities of those years, Stewart said before the documentary was filmed he and his wife, Helen, sat down and listed 57 people they knew who had died, including five close friends.
He said they worked out there was a "one out of three chance I was going to survive and two out of three that I was going to be killed".
"A terrible batting average," he tells Polanski in the postscript interview.
"And yet nothing was being done by the governing body, by the track owners, by the officials."
The three-time Formula One world champion, who campaigned during his career for improved safety, said it took a lot of pressure from him supported by other drivers to get the changes that have resulted in deaths becoming rare today.
And he said he still remembered the fellow-drivers who lost their lives.
"Lorenzo Bandini died here in Monaco," he said, looking out of his hotel suite.
"Not far from ... this window.
"They never got the fire out. They tried to put the extinguishers on.
"Lorenzo never got out of the car. The fire just engulfed everyone.
"There was not the right equipment ... and not enough people and the driver died."
More than four decades later, crashes are just as spectacular as they always have been, but deaths are rare.
When Robert Kubica crashed in 2007 at the Canadian Grand Prix, Stewart said he was convinced he could not survive.
"I was there. I thought 'he's dead', no one can survive impacts like that [but] he was carried out on a stretcher and he walked out of the hospital the next morning."
-AAP