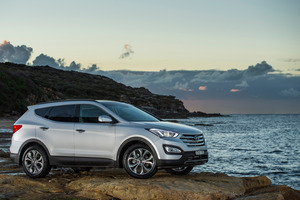 The dilemma: Jane loved her Chrysler Voyager when her kids were younger, but now she doesn't need the seven seats provided in the people mover.
"It has been a great family car and we would like to keep many of the features while downsizing the physical size of the car," says Jane.
"We really only need five 'real' seats now."
Well Jane, the SUV market shows no signs of slowing down and there is an abundance of choice.
The recent increase in fuel prices adds a new dimension, however, and I suspect many SUV buyers will be looking for fuel savings as well.
If your average annual commute totals about 14,000km per year (the national average), and towing large loads is not required and five seats are enough, then the options start to thin out a little.
The diesel versus petrol debate could be argued but unless towing and annual travel distances are increased, petrol-powered engines have their benefits (especially those that run on the cheaper 91 octane).
Another quick elimination round can be based on seat size and comfort. This is one area where no amount of sales spin should influence a buying decision; the overall seating either works for a given need or situation or it doesn't.
Parking aids (reverse camera or parking sensors) can be another huge benefit in built-up areas. The budget: $50,000-plus
The shortlist
Hyundai Santa Fe
It's a big, roomy, highly spec'd and well put-together SUV. You will need to weigh up whether the on-demand 4WD (engages automatically if wheel spin is detected) is an advantage or not. It does add unnecessary weight if you plan to stick to the hard seal on a regular basis. The 2.4-litre petrol engine is not short on power (141kW) or torque (242Nm) which combines well with a six-speed auto. Claimed combined fuel consumption is 9 litres/100km. Prices start at $57,990 plus on-road costs (ORC).
Mitsubishi Outlander
You need to consider how much power and size you really need. The Outlander is available in 2-litre, 2WD format only (112kW and 193Nm) and comes with a host of standard features including reverse camera, parking sensors and climate air conditioning. The Constant Variable Transmission (CVT) helps achieve a claimed combined fuel consumption of just 6.6 litres/100km.
Prices start at $39,990 plus ORC, with the five-seat 4WD and 2.4-litre options starting from $43,990.
Toyota RAV4
The 2-litre petrol engine (107kW /187Nm) is partnered with a CVT transmission to achieve a combined claimed fuel figure of 7.4 litres/100km. Once again, not a lot in it when comparing safety and driver comforts. Prices start at $39,990 plus ORC. The AWD 2.5-litre options start from $51,490 plus ORC.
Driven recommends
Take your time, collect the brochures, go for a test drive and do the comparisons. Is more power and 4WD worth the sacrifice of higher fuel consumption? Or will a smaller engine with better fuel consumption meet your needs?