Fitness will count in five hour race writes Eric Thompson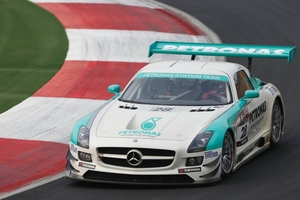 New Zealand endurance racing driver Jono Lester has arrived in Japan for round three of his Super Taikyu Endurance Series after a few months of no action.
Lester has 11 races over the next 15 weeks beginning this weekend at the Twin Ring Motegi track.
After finishing second in his rookie year in the championship in 2012, Lester hit the ground running this year and leads the series after the South Korean round in May. The first round in Sendai, Japan, was cancelled because of snow.
Lester will co-drive the five-hour race with Malaysian pilot Fariqe Hairuman and Japanese driver Tatsuya Kataoka for the Petronas Syntium Team in a Mercedes-Benz SLS AMG GT3.
The 23-year-old had a clean sweep of wins in Korea, and is firmly focused on consolidating and extending that points lead at the high-speed Motegi circuit, which is within the banked curves of the popular IndyCar oval.
"We have positive momentum after Korea, and the key now is to ride the wave and maximise our advantage at Motegi," says Lester.
"The break's been too long and I can't wait to get back in the car. It's been a tense time and I'm suffering withdrawal symptoms. But it's going to get really busy from now on.
"I've got the V8 SuperTourers and South Island Endurance Series coming up and I'm going to debut in the D1NZ Drifting Championship Pro Class over the summer."
This weekend, though, is all about stretching his lead in the Japanese endurance series. He and his co-drivers face a hefty challenge from a good number of GT3 rivals from manufacturers such as Nissan, Audi, BMW and Porsche.
"A number of the locals will be pretty quick around Motegi, but it's the addition of Japanese driver Seiji Ara this weekend that we'll have to keep an eye on. He won the Le Mans 24-Hour in an Audi R8 LMS in 2004 with the factory team," says Lester, who goes on to admit the layout of the track might suit his rivals in different machinery.
While it is a minor concern to the Kiwi, it's the heat he is more worried about.
"There's a heatwave going on here in Japan at the moment and we're expecting 30-plus centigrade all weekend with humidity up around 100 per cent. It's going to be baking in the car.
"I've tried to prepare with a little bit of different training. I'm just going to have to grin and bear it and, luckily, I pride myself on my fitness."
Although the Mercedes has air conditioning in the car it barely brings the heat inside the cockpit down to around 40 degrees centigrade - still a bloody hot work environment.
What about just pulling on a cool suit, you may ask? Well, Lester has his own thoughts about those things.
"I've never worn a cool suit in my life. I don't like the things. I don't trust them and have seen how many times they crap out in V8 Supercars.
"The most important thing in these situations is to look after your hydration rather than your body heat.
"We have a really good cool drink system in the car and it's more important for body and mind to remain hydrated than cool," says Lester.
Thankfully, the young bloke is pretty damn fit because he's going to need to be.
While there are three drivers on the roster, Lester will be starting the race and finishing it, meaning he's going to be basting in the oven twice as long as anyone else.
"I enjoyed Motegi last year and did many laps there in wet and dry. It's a stop-start circuit and this may be to the benefit of the likes of Nissan and Porsche, whereas the SLS AMG is more suited to flowing circuits.
"Nevertheless, endurance racing is more than just being fast on a single lap. Strategy will come into play again with a five-hour race, and fitness will be key in remaining consistently quick to challenge for victory."
This weekend will be good preparation for some of the longer races coming up, beginning with a seven-hour gig at Fuji Speedway, outside Tokyo, in mid-August.