Kiwi racing drivers belted up for another big weekend around the globe, and recorded more highs than lows.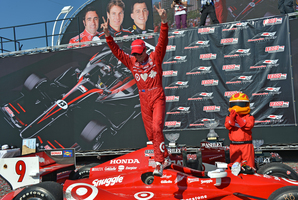 Scott Dixon is jubilant after completing a three-peat of victories in Toronto. Picture / IndyCar Media
Having not won a race in nearly a year, Scott Dixon has now reeled off three wins in a row - Pocono and two in Toronto - to be a contender for the IndyCar series. He's second in the championship, 39 points behind Helio Castroneves with six races to go.
"I think the biggest turning point for us was Pocono," said Dixon. "To win at a track where we knew we might have been at a disadvantage on straight-out speed ... it was nice to come through like that.
"The way the year started, I didn't think we'd even be close toward the front of the championship. I think there's been a fair share of other good guys, guys who have had good points have had their issues, as well. It's closed the gap a fair bit."
Dixon had his last three-in-a-row wins in 2007 (Watkins Glen, Nashville, Mid-Ohio), and now has 32 IndyCar wins. That puts him seventh on the all-time winners' list ahead of teammate Dario Franchitti and Sebastien Bourdais, who got his first podium since 2011 in Saturday's race one.
The Aucklander's wins are made up of 17 on ovals and 15 on road/street courses. Dixon made his first IndyCar start at Monterrey, Mexico, on March 11, 2001, and picked up his maiden victory at Nazareth less than two months later. He's been with his only team, Target Chip Ganassi Racing, since 2003, has won the championship twice (2003, 2008) and the Indianapolis 500 in 2008.
"If we can get more victories, we're obviously doing something right. I credit a lot of that to the team," said Dixon.
Van der Drift problems
The BhaiTech McLarens - one of which New Zealander Chris van der Drift shares with Luiz Razia - were the darlings of the GTS class in the opening race of the International GT Open Championship at Silverstone.
The Kiwi's teammates, Giorgio Pantano and Rafael Suzuki, just pipped Van der Drift and Razia for the class win, the Anglo-Italian team's third success of the season. However, it wasn't long before the officials got involved and Van der Drift and company were hit with a 30-second penalty for an infringement before the race started. The team still had the car up on jacks with the tyres off after the five-minute board came out.
The penalty dropped them from sixth to ninth overall and from second to fifth in their class.
The pair qualified well for race two and were in the mix over the opening laps until Razia coasted back into the pits on the sixth lap with a throttle sensor failure, ending their race.
The pair get their next chance at Spa Francorchamps, Belgium, on September 7-8.
Cassidy back in action
Nick Cassidy was able to race after nearly six months in the pits.
His deal to race GP3 this season was gazumped just before the series started but he and his management team have put together a deal to contest the rest of the Euro Formula Three championship with the Eurointernational team.
He's now a teammate of Tom Blomqvist, who learned his craft in New Zealand before moving back to Europe. Cassidy has already competed against, and beaten, half the field as many of them came Downunder for the summer's TRS championship.
The Kiwi rocked up to the Norisring street circuit in Germany for the first time and was soon on the pace, qualifying ninth, 10th and 15th for the three races despite gearshift issues. Cassidy managed two 11th places and a 16th.
"It was a tough weekend. In the third race I went from 15 to 11 but ultimately I didn't have the race pace needed to challenge further. Now we look forward to the next round in a month's time," he said.