After a slow start to the season Kiwi believes his Mclaren is up for challenge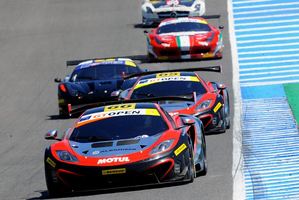 New Zealander Chris van der Drift is making steady progress in the International GT Open championship and is confident of a good result this weekend at Silverstone for round five of the series.
Generally regarded as the go-to man to fill a one-off seat in most European championships, van der Drift has finally scored a full championship gig with Italian-based team BhaiTech.
After a couple of good results in the Italian GT championships, the former A1GP, AutoGP, Superleague and World Series driver received a last- minute call-up to contest the series in a second McLaren MP4 12C GT3 with Brazilian Luiz Razia.
It was a slow start to the season as the team hadn't had enough time to test anything on the car and used the opening rounds as glorified test sessions. However, things are looking up now and van der Drift, along with co-driver Razia, likes their chances on the British track.
"This is like my home round and I get to sleep in my own bed," said van der Drift. "I'm looking forward to the race this weekend and it should suit our car much better.
"The guys have done some more work on the car, which is good, and we should be in a better position to set a good qualifying time.
"We've been able to get a fair amount of practice in the lead-up to the race, which has been good."
The Northamptonshire circuit is fast and flowing with few slow corners and will tend to favour the more powerful cars like the bigger Ferraris and the Chevy Corvettes.
Andrea Montermini leads the series from Luca Filippi and Nicky Pastorelli in their GT class, while Miguel Toril leads the GT3 category with van der Drift in fifth despite getting no points in two rounds.
"The Silverstone circuit has some really fast corners which will suit our McLaren. On the shorter, tighter tracks we suffer from turbo lag and struggle to get out of the corners as fast as the normally aspirated cars, especially the big V8s.
"It'll be good to be able to let the car stretch its legs and stay on song for the majority of the track and we could be able to challenge some of the others. We've been fast in the past but haven't been able to do it consistently," said van der Drift.
As with a lot of categories at the elite level of motor racing tyres are the key. No matter how good the car is, if you can't get the tyres to last a whole race you'll be nowhere when the chequered flag comes out.
"The tyres are good to a certain point and then they suddenly drop off - especially in the longer races. The idea is to keep a little bit in them so you can push at the end of the race.
"Hopefully we won't have any problem here [Silverstone] with the tyre going off and then the track will come to us," said van der Drift.
What has to be noted in the GT Open series is that all the teams do not use the same tyre. Sure, they are all Dunlops, but because there are so many different cars competing they all need a different size and profile.
The front tyres on van der Drift's car are a different size and profile to that of a Ferrari and the rear tyres are a different size to a Mercedes.
This doesn't make for a level playing field when it comes to racing. Each car's set-up will suit a particular track configuration and surface, which means the car could be a rocket ship at one circuit and a dog on another.
As a result consistency of tyre wear through the entire season is almost impossible. "The other problem is that the tyres are rotational [can only be used in one direction] so you can't swap them around on the car.
"It's really critical how you use the tyres. There's no use looking at another car to see how their set-up is working because they'll be using different tyres," said van der Drift.
Couple the tyre difference with some cars being front engineered and others being rear engineered and each team is on their own when trying to find the sweet spot for each event.
"There's no way it's a matter of throwing on a green set of tyres and going for gold, it's a lot more complicated than that," van der Drift said.
"Also, this is the first time the McLaren has used Dunlops, so there's no previous data."
Coming up
GT Open Championship calendar
Round 4, July 13-14, Silverstone
Round 5, September 7-8, Spa-Francorchamps
Round 6, October 5-6, Monza
Round 7, November 9-10, Barcelona