Hartley gets to sit in hot seat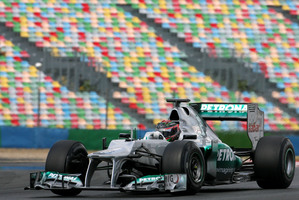 Professional racecar driver Brendon Hartley continues to be a busy man and this weekend is no different.
Fresh from a top 10 finish at the Le Mans 24 Hour, and a podium at the Watkins Glen round of the American Grand Am series, the Kiwi is sliding into an F1 car this weekend.
The annual Goodwood Festival of Speed in West Sussex, UK takes place over the next three days and Hartley will participate in a Mercedes AMG Petronas Formula One car, sharing driver duties with Lewis Hamilton and Nico Rosberg.
For the past few years Hartley has been an integral part of the Mercedes F1 outfit and, in particular, simulator programme. As a reward for work well done, he'll be driving this weekend the latest incarnation of the Silver Arrow.
This will be the only chance this year Hartley will be able to drive a Mercedes F1 car, as there'll be no young driver testing for the German team due to illegal tyre testing.
But Hartley also had a drive at the test last year and was looking forward to being trackside during the testing period.
While zipping up the hill at Goodwood estate may not be the same as blasting around a racetrack, Hartley is keen to put on a good show. "It's great that I'm getting the chance to drive the Mercedes F1 car again and it's one of the perks of the job," said Hartley.
"It's great to be able to pull on the team gear and be a real part of it all. While we might not be going flat out up the hill at Goodwood we'll still be putting on a pretty good show.
"There'll be lots of tyre smoke and I'll be giving it some, don't worry about that. However, it is a show event and while some of the other drivers there will be setting fast times to break records we won't be.
"We get about three runs each so I'll be able to get a good feel for the car on the road.
"I won't be doing anything like some of the other guys in other cars as they have a real go. I don't really know how some of the older guys in the classic cars do it - they're on the limit and it's pretty amazing."
The young New Zealander has built an enviable reputation as a simulator pilot and after helping Red Bull Racing develop their car a few years ago, Mercedes knew they were employing someone who could contribute. "I've been driving single seaters since I was 13, and although I'm still quite young I had a lot of experience," said 23-year-old Hartley.
"I was at Red Bull for quite a while and helped develop their car, and although I haven't raced in Formula One I've done a lot of F1 development via a simulator.
"Your brain still has to work out a lot and you have to try and trick it into thinking you're actually doing the real thing. And not everyone has a good time with it, but it works for me.
"I guess the key [working at Mercedes] is that I have had a lot of experience in simulators. I can't take any credit for Mercedes, as it's a big team full of some clever guys but I'd like to think I'm part of it and able to contribute a little.
"I have a lot of experience with simulators that I'd like to think makes me a bit of an asset. I think it helped being at Red Bull for so long and the experience I gained there. Although it's close to reality, not everyone gets on with it [simulators]."
It's been a year since Hartley sat in an F1 car but he's not overly bothered. You have to remember when he's not actually racing a Le Mans prototype sports car in Europe, or a Grand Am sports car in America, he's putting in many hours in a simulator at the Mercedes F1 headquarters. He's probably had more seat time real and simulated than just about any driver currently plying their trade.
"I effectively sit in a Formula One car every day. It's a real cockpit with all the same stuff as the rolling car. The fact I'm driving a simulator all the time should make the skills pretty transferable," said Hartley.
While Hartley is beginning to make quite a name for himself in sports car racing and is regularly the fastest driver in his class, he is still the only Kiwi to drive an F1 on a semi-regular basis.