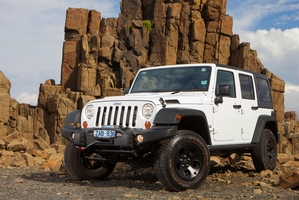 Jeep has long been an icon for rugged "off-roadiness", blue-collar grit and American patriotism.
But it can wave its star-spangled banner even higher now because a recent survey of 4500 Americans has recognised Jeep as the most patriotic brand out of 197 brand names in 35 different categories.
Jeep beat out other longstanding American icons such as Coca-Cola, Harley-Davidson, Levis and Disney to take the title reddest, whitest and bluest of them all.
Jeep led with 98 out of 100 on a scale representing "consumers' emotional engagement expectations" according to Brand Keys, the branding research firm that carried out the survey.
Given Jeep's strong Born in the USA style and reputation (in America, at least) of "winning" World War II, it is not surprising to see it at the top. What is surprising is that Jeep, followed by Ford in a distant 16th place, are the only two car manufacturers represented in the final 25.
While Harley-Davidson managed to get into 13th place, Chevrolet must be feeling particularly aggrieved, especially considering it is the one US manufacturer that has heavily played on the patriotic theme with its marketing.
Hope it's got personality
If proof was ever needed that looks are subjective in the motoring world, and that the US market has its own peculiar aesthetic, then this is it the NCE Acura TL convertible.
NCE stands for Newport Convertible Engineering, a US company that claims to ''design
and manufacture convertible soft tops and hard tops for many attractive convertible vehicles in the world''.
In a press release that reads as if it was written by the same PR company that promotes Russian armoured SUV manufacturer Dartz, NCE claims to make ''unique convertibles of unmatch and detail''.
If you add the fact that no one wants a four-door convertible to the fact that the Acura TL is unfortunate looking enough to begin with, then this really doesn't work well.
We are the world
*British police recently seized a car for being driven while uninsured, an offence that usually sees the offending car crushed. Except this time there is a bit of controversy
around the idea of crushing it, you see the car is a Lamborghini Aventador. An uninsured custom purple and orange Aventador. Purple and orange? Crush it now, we say. And burn it. Then crush it again ...
*How do you know a city has a drink-driving problem? This should tell you: after a pedestrian wandered on to the road and was hit by a car, causing a seven-car pile-up at 3
o'clock in the morning in Atlanta, Georgia, six of the drivers involved were subsequently charged with drink driving.
No one was killed, but five of the drivers were immediately arrested, while the sixth driver to be charged and the pedestrian were taken to hospital for treatment.
Nissan, Williams F1 to co-operate
In a recent announcement, Nissan's arm, Nismo, and the Williams F1 team confirmed that they will be co-operating to co-develop ''high performance road cars''.
No details of exactly what cars the two will be working on, but they have announced that their first product will launch in 2014. The ''Williams'' part of the deal will be carried out by the ''Williams Advanced Engineering'' division of the company, and Nissan says it
was chosen because of its expertise in aerodynamics, simulation and material science. Williams is also a world leader in hybrid technology.
Whether this is the start of a wider collaboration between Nissan and Williams is impossible to tell at this stage, but it is a long-stated ambition of Nissan's to run in the
LMP1 class at Le Mans and, while its DeltaWing projects have been run by Ray Mallock Ltd, the idea of running under the banner of a legendary F1 team must be appealing. In the shorter term though, there is the impending 2014 ''high performance road car'' to
speculate on. If Williams' current F1 form is anything to go by, it will no doubt get off to a slightly disappointing start, drive into Mark Webber, finish badly and then catch on fire in the garage.
Take a spin round the US in style
In 1966, rental company Hertz tried something a little different in the United States by buying a bunch of Ford Mustang Shelby GT350s (left) to hire out to lucky punters.
Although, for ''lucky punters'' you should really read ''weekend racers'', because that is what ended up happening to the distinctive black and gold Shelbys, as enthusiasts
hired them for weekends of track work and drag races.
Jump nearly 40 years to today and the Hertz GT350-Hs are extremely valuable collector cars, and Hertz is giving high-performance rentals another go with its ''Dream Service''.
If you are heading to the States for a holiday and feel so inclined, you can now hire the likes of an Aston Martin V8 Vantage, Ferrari F430 Spider, Lamborghini Gallardo, Mercedes-Benz C63, E63 or SLS63 AMG, Nissan GT-R, Porsche 911, Audi R8, Bentley Continental GT or SRT Viper.
Prices start at US$395 ($505) a day for the likes of a Porsche Boxster and top out at US$1500 a day for the Gallardo or F430.
There is no insurance included, though, and Hertz certainly doesn't want you thrashing them around race tracks. Of course, what they don't know couldn't possibly come
back to haunt you. Could it?
Well, Hertz is probably wise to that now, especially because Ford bought the company in 1987.
And although it sold it again in 2005, Hertz is still a major sponsor of the Penske Ford Racing Team, which runs a Mustang in the Nascar series.

Number Crunching
72 YEARS The first Jeep was produced by Willys-Overland, making it the world's oldest SUV brand.
7 SLOTS The Jeep's grille is also surrounded by two round headlights.
10 YEARS DaimlerChrysler tried to sue AM General for using a seven-slot grille on the Hummer.
40 YEARS Since AM General changed its name from Willys-Overland.