Another weekend in motorsport produced varied results for the New Zealanders belting up in various parts of the globe, writes Eric Thompson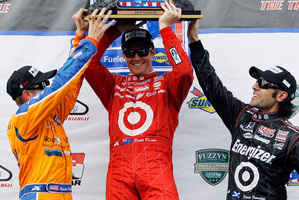 Dixon breaks his duck
Kiwi IndyCar driver Scott Dixon's season continues to yo-yo and, at the Pocono Raceway at the weekend, the Aucklander notched up his first win of the season.
The Target Chip Ganassi Racing team has struggled this year to get its cars (Dixon's teammate, Dario Franchitti, and Charlie Kimball) to exhibit any sort of consistency. It did something right this time for a clean sweep on the podium.
Dixon ticked off win number 30, Kimball equalled his best finish in second and Franchitti had a season-best third. Ganassi Racing also ticked off its 100th win in all forms of racing and Honda's 200th IndyCar win.
Dixon's win after a season full of mishaps is even more sweet as he had to cop a 10-grid starting penalty for an unauthorised engine change that dropped him to 17th when the lights went out.
"Going into this morning, I was not thinking we could win," said Dixon in Victory Lane.
"The team hadn't given up and you have to hand it to Honda as well.
"Fuel mileage was a big key and we still had speed up front without having to save fuel all the time. There's no doubt the Honda teams have been the underdogs recently.
"At the start of the year, we had some good runs with Sato and a few other guys getting some victories, but we'd been struggling a little bit.
"We had our own problems as a team. But to get a one-two-three - Charlie second, Dario third ... it was a fantastic day."
Dixon cemented the lead of the race ahead of Kimball with just under 30 laps to go after the final green flag fuel stop, and was never headed until the chequered flag.
It's been a tough year for Dixon. When they've had good engines, the car's been a problem, and when the car's been good, the engine cops out. Despite all this, Dixon has moved back into fourth just 10 points off Marco Andretti in third.
V8 Supercar up and down
It may have been a bit of a struggle over the weekend in Townsville for the New Zealand V8 Supercars drivers but spare a thought for the former king of Reid Park, Jamie Whincup. The Red Bull Racing Australia driver had finished on the podium every time the category had raced at the Queensland track in the past but was unable to make the shoot-outs and could manage only a seventh and an 11th - but he still leads the championship from Craig Lowndes and Will Davison with Kiwi Shane van Gisbergen in fifth.
Ford Performance Racing finally got all its ducks in a row in race one with Davison coming home ahead of Mark Winterbottom and Fabian Coulthard in third. Van Gisbergen had grabbed the lead early on but a drive-through penalty put paid to any top finish.
"I finished third in qualifying and was pretty happy. We had a slow stop in the race where the wheel nut got stuck and still salvaged a podium out of that, which is pretty good going," said Coulthard.
"We had good speed on the soft tyre but need a little bit of work on the control tyre but at least we've got something to work on."
Race two was the Holden Racing Team's turn to take the two top spots with James Courtney getting the win from Garth Tander and Van Gisbergen who salvaged his weekend with a great drive from the back of the field.
"I'm stoked with getting P3," said Van Gisbergen. "Started from P22 and then got turned around in turn one and back to last.
"The car was a jet and the team did a great job and we got through the field to make the podium."
The V8 circus heads to Ipswich for the next round of the series, July 26-28.
Mitch misses out
Out to make amends for a lack of anything to show points-wise at Silverstone last weekend, despite being the quickest in the race, GP2 driver Mitch Evans continued his good pace, qualifying fourth at the Nurburgring.
When the lights went out, Evans grabbed the lead heading into turn one only to miscalculate the grip, running wide and becoming swamped by the following pack to cross the line in 20th after the first lap.
He fought his way back up the field only to be undone in his tyre pitstop when the air jack failed and the car had to be lifted manually and could manage only 16th.
Evans had a much better second race and good, solid, quick driving saw the Aucklander steadily move through the field to finish seventh and grab two valuable championship points.
"Another up-and-down weekend," said Evans. "It's disappointing, obviously. It was another weekend of mega pace but, then again, things didn't go our way for a number of reasons.
"It was good to get the points but I should have had a podium. It was my mistake, but it's positive that we have the pace heading to Budapest in a few weeks."
Bamber cleans up
Young New Zealand Porsche racer Earl Bamber continues his remarkable run in the Porsche Carrera Cup Asia, notching up his fourth successive win to extend his lead at the top of the championship table.
Bamber held off a spirited challenge from Martin Ragginger, second in the series, and led from pole to chequered flag at the Inner Mongolia Ordos International Circuit to win round seven.
"The Nexus car felt mint all weekend," said Bamber on social media. "We had an awesome day with getting pole and a race win."