Fans need to act if Kiwi driver is to win charity bet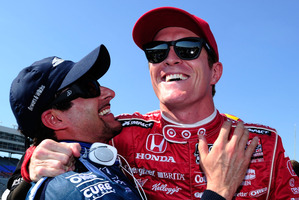 New Zealand IndyCar driver Scott Dixon may have grabbed his first win of the 2013 season at Pocono over the weekend, but still has a challenge on his hands over the next few days and needs help from his Kiwi fans.
Dixon has been going head-to-head with fellow IndyCar driver Alex Tagliani on the oval and the race isn't over as they have an ongoing challenge to raise money for their favourite charities.
The Power of 2 charity has launched an IndyCar initiative to unlock the power of celebrity racers to make changes for the social good. It's where two celebrities, in this case Dixon and Tagliani, go up against each other to see who can raise the most money for their charity.
The challenge is to get their fans to make a donation as well as encouraging two friends to do the same. As well as the feelgood factor, fans could win a signed race helmet and speak personally to the driver they support.
Making it even more interesting is the personal bet between the drivers.
If Tagliani's fans pledge more money than Dixon's, then the Kiwi has to pull on a sheep costume and ride a tricycle around the grounds of the Indiana State Fair. If Tagliani's lot fall short, he'll be pulling on a beaver outfit and doing the same pedal of shame.
Funds raised by Dixon will go to CanTeen in New Zealand and Teens Living With Cancer in the US.
For more information, check out canteen.org.nz and teenslivingwithcancer.org.
"I've been a supporter and spokesman for CanTeen and Teens Living with Cancer because I feel this age group often gets overlooked," said Dixon.
"Often, people immediately think of either helping children or adults, but teenagers are going through a lot to begin with at this stage in their lives. It's one of the most difficult stages of your life - even without the added difficulties of fighting cancer.
"It's cool to be a part of these organisations as you can make a big impact on young people at this stage in their life. It has been a rewarding relationship for me over the years, and the Power of 2 promotion will only increase the exposure we are trying to create for them."
Tagliani's money will support Anaphylaxis Canada, a non-profit charitable organisation dedicated to helping those at risk of anaphylaxis and those who care for them. Check them out at anaphylaxis.ca.
"As someone with a severe food allergy to peanuts and tree nuts, I can tell you that an anaphylactic reaction is far more frightening than driving a racecar at 400km/h," said Tagliani.
"Helping kids better manage their allergies and live safely is something I am passionate about. That's why I am a proud supporter of Anaphylaxis Canada and this Power of 2 challenge. I also can't wait to see Scott get on the kid's bike in his sheep costume."
So Dixon fans, it is up to you to get on to the www.power-of-2.org website and make sure the Kiwi fella gets one over his Canadian rival as well as help some teens who need a bit of a lift.
You don't have long to think about it. The challenge ends on July 18.