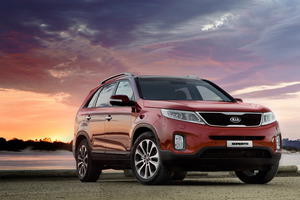 The new Kia Sorento R has picked up its third Total 4x4 magazine award in a row in Britain for being the most improved contender.
Launched late last year in Europe and here in New Zealand, the Sorento R has a new platform that delivers better handling and ride, enhanced interior quality and a more modern look.
The Sorento R has been honoured by Total 4x4 magazine twice previously, both times as best vehicle in the full-size category, where it was just pipped this year by the Range Rover.
Total 4x4 editor Alan Kidd said: "The Sorento has won its class in each of the past two years, beating a whole range of premium opposition in the process.
"This year's upgrades move it closer to becoming a premium SUV itself; we didn't have many criticisms of the old model, but Kia has addressed every single one of them.
"The Sorento was already one of the best 4x4s on the market; now it's better than ever, and by a long way.
Nothing less than an all-new Range Rover could stop it from completing a hat-trick of class wins, and that says a lot about just how good Kia has become at making world-class 4x4s."
Kia Motors NZ general manager Todd McDonald said: "Since the all-new Sorento R was introduced to our market it has proved to be very popular with customers - they really appreciate the sophistication of the new model."
In New Zealand, buyers have the option of buying a Kia Sorento R with all-wheel-drive or with front-drive only.
Starting from just $46,490, plus on-road costs, the Sorento R models on sale in New Zealand are powered by a choice of a 2.4-litre petrol engine or the highly acclaimed 2.2-litre R-series diesel.
All feature a six-speed sport-shift automatic transmission as standard.