Kiwi drivers need to curb their enthusiasm on tricky layout of Townsville track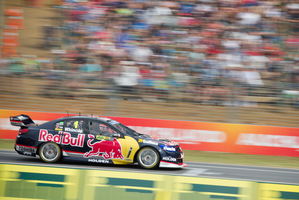 The V8 Supercars are in North Queensland this weekend for round seven of the championship and Jamie Whincup is beginning to get a jump on the field.
The defending champion has a relatively comfortable lead of 159 points over teammate Craig Lowndes with Will Davison a further 116 back in third. Best-placed of the Kiwi drivers is Shane van Gisbergen in fourth, 21 points behind Davison.
Whincup though, on previous form on the Townsville track, is the man to beat. He's won on the street circuit every year the V8 Supercars have raced there since 2009. The track is a mixture of normal commuter roads and purpose-built sections through Reid Park that have one thing in common - high curbs that will punish the cars.
It may not be the fastest circuit on the calendar but drivers will have to contend with the turn-one kink where they'll be hanging on for dear life, pounding through at 250km/h, and then have to smack the brakes hard for the slowest corner at turn two.
There are only two races this weekend, one today and one tomorrow, and the drivers are pleased to be back to the traditional format. The whole pit crew has a say in what happens during the race as there will be refuelling during the pitstops for the first time since Adelaide.
"It would be nice to get a couple more wins but we're focusing on collecting points," said Kiwi Fabian Coulthard who's fifth in the title race.
"We've got to race up the front and stay out of trouble. We're back to a more traditional race format with two long races, which is good. It brings tyre and fuel strategies back into play and I think it's been a little bit missed lately.
"We have to tick all the boxes, starting with qualifying up the front. If you can qualify at the front you can generally stay at the front and our average has been very good this year. We just have to keep doing what we're good at and the results will keep coming."
Tyre allocation for the Townsville 400 is similar to Darwin with three sets of hard and two sets of soft allowed for each car. To add a bit of interest, teams will not be allowed to use the soft compounds for qualifying, but will be permitted to fit the sticky boots for the top 10 shoot out. The fastest 10 cars for today's race will be on softs while the rest of the pack will use greens and all teams will have to use both compounds during each race.
As always qualifying is going to be very important. Van Gisbergen has been putting a lot of time and effort into trying to get his race pace to translate into qualifying results.
"I've been doing quite a lot of studying to try and understand what goes into making a fast qualifying lap," he said.
"I've really been doing my homework and put a lot of effort into looking at how some of the others do a quick qualifying lap. I've had a lot of help to try and work out where I can improve.
"We'll soon find out if it's going to help and I might do really well, or turn up and not qualify well at all."
"These cars [new COTF] work a bit different on street circuits and I'm still getting used to it. We went quite well at Adelaide [he won race two] so we'll just have to see how we go and I'm pretty sure we'll be okay.
"The curbs are bigger than we have on normal tracks but the way the track works you have to run the curbs. We spend a fair amount of time trying to make the car better to run over them and take the hits better."
Scott McLaughlin must also be thinking he has a target painted on his car.
The teenager has been punted from pillar to post recently through no fault of his own. Mind you, he's not complaining about the rough and tumble of V8 racing, more like he's hoping someone else will be used as a battering ram.
"We had a really good test session recently and in the end we got on top of what we needed to and we're looking good going into this weekend," said McLaughlin who is just outside the top 10 in 11th.
"I hope the targets have been removed this weekend and hopefully I can get some racing done without bent panels or steering."
2013 Supercars
1. Jamie Whincup 1423
2. Craig Lowndes 1264
3. Will Davison 1148
4. Shane Van Gisbergen 1127
5. Fabian Coulthard 1108
6. Jason Bright 1101
7. Mark Winterbottom 1079
8. Garth Tander 1062