Business is booming for BMW with goals of customer satisfaction and strong dealers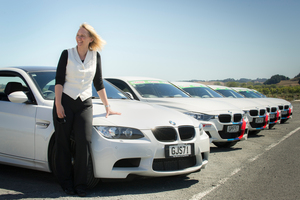 It's more than six months since Nina Englert took over as BMW Group New Zealand's managing director and, with the release this week of new car sales figures, it's been a productive time for the American.
For June, BMW Group NZ had 201 new vehicles registered, putting it at 1027 sales so far this year with its nearest rivals Audi at 983 and Mercedes-Benz at 918.
It was also one of BMW Group's top months in the 30 years they have been operating in New Zealand (see side bar).
"BMW has enjoyed a fantastic 30 years in New Zealand, and there is plenty for us to look forward to as there are no fewer than 25 new BMW Group models which will enter series production in 2013 and 2014 - 10 of them brand-new vehicles," said Englert.
Having worked with the BMW Group for 22 years, first based in Munich in market research and quality departments then back in the United States in 2000 as aftersales special projects manager, Englert, 41, later became manager of customer relations and services in America.
In 2008, she was appointed manager for the China office in Munich with responsibilities covering product, pricing, marketing, dealer development and aftersales.
After two years, she took on the same role for BMW of North America.
But, in December 2012, she succeeded Mark Gilbert as MD for the German brand in New Zealand, although she began her role in earnest in January.
Among her first tasks was visiting the nine BMW dealerships in New Zealand - not only giving her a chance to meet staff but also the opportunity to see some of the country.
"The dealers are doing an exceptional job and the customers seem to be responding," said Englert.
"They are appreciating the fact the experience I bring, with all my years in Germany, that if I do ask for something in Munich a few people will listen."
Since the start of the year she's seen the introduction of the 3 Series Touring, plus it's X-Drive derivative, the Mini Paceman and 6 Series Gran Coupe M models to the New Zealand market, with the 4 Series sedan and X5 luxury SUV joining BMW Group NZ's line-up soon.
BMW Group NZ has an extensive range of products - from the 1 Series and Mini up to the 7 Series sedan - but luxury rivals Audi and Mercedes-Benz are expanding their products this year with the A3 Sportback and sedan and A-Class threatening Englert's top seller, the 3 Series.
Englert and her management team recently implemented strategies to continue growth for the rest of the year.
"We want customer satisfaction, then to keep our dealers strong and healthy from a financial perspective plus to continue the growth in New Zealand and the momentum."
Englert is also bringing her international experience with her to the job, with her time in the United States helping to deal with some customer complaints while her role as manager of the China office has helped too.
Doors open wide for big Three-0 birthday bash
BMW has celebrated the 30th anniversary as a national sales company here by inviting their neighbours to visit their Mt Wellington, Auckland, head office to share coffee and cake as well as the opportunity to get behind the wheel of some of their products.
''What better way to celebrate than a catch up with the neighbours and giving them the
opportunity to drive some new BMW and Mini models,'' said BMW NZ's managing
director, Nina Englert.
''It's great to be able to share an occasion such as this anniversary by handing over the
keys to some of our latest ultimate driving machines for people to experience.
''It's also our own small way of saying thanks to those closest to us for helping us become the number one premium automotive brand in New Zealand.''
The most popular model on the evaluation schedule was a new BMW 6 Series Gran Coupe with a 4.4-litre V8 petrol engine, which was booked solid throughout the afternoon.
Other vehicles which received multiple requests and special praise included the 5 Series
ActiveHybrid and two Mini models, the four-door Countryman and the two-door roadster.
BMW staff also participated in the celebrations, chatting with guests and providing information about the vehicles on display in the showroom.
All BMW dealers and authorised service outlets throughout the country, as well as leading suppliers and partners, also received an appropriately branded BMW cake to enjoy as part of the celebrations.