Record number of new car sales have hopes sky high for great year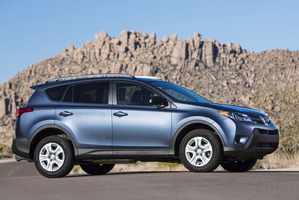 Although we are only halfway through the year, it looks as if New Zealand car distributors will be having a very merry Christmas with an expected record number of new vehicle sales.
Part of the increase in new vehicle registrations came from a strong June for the commercial sector, said Motor Industry Association chief executive David Crawford.
"Commercial vehicle registrations remains extraordinarily strong with monthly registration of 3181 vehicles. This is the strongest June sales since 1982," said Crawford.
Year-to-date commercial registrations of 14,754 are 3050 ahead of this time in June last year - a 26 per cent increase.
"This reflects a strong housing market in Auckland and the Christchurch rebuild, providing business confidence to the trade sector," said Crawford.
New passenger car registrations of 7542 vehicles in June were the highest since 2005 when 7713 registrations were recorded.
This year's passenger vehicle registrations, at 39,781, are 4.3 per cent ahead of the same time last year.
Toyota remains as market leader with 2350 registrations - 1433 passenger cars and 917 commercials.
Ford was second with 1210 registrations, followed by Aussie rival Holden on 1097 registrations.
Toyota New Zealand's head office will also be celebrating, taking first and second spot for new passenger cars and best selling commercial vehicle.
The top-selling model last month was the Toyota Corolla with 416 registrations followed by the Toyota RAV4 with 343. The Hyundai Santa Fe was third with 312 registrations.
The Toyota Hilux was the top-selling commercial model with 665 registrations, followed by the Ford Ranger (416) and Nissan Navara (286).
The Hilux with 2449 registrations and the Ford Ranger with 2197 registrations are the two top selling commercial models this year.
Ford NZ has had to cope with a backlog of wannabe Ranger buyers, some of them having to wait three months for the shipment to arrive from the Thai factory.
The SUV sector was the most popular last month, with 29 per cent of total registrations continuing its dominant year-to-date position with 28 per cent of all registrations.
This was followed by the pickup/chassis sector which accounted for 22 per cent of registrations for the month and 19 per cent for the year.
Total vehicle registrations for last year were 100,795. In the first half of this year, there have been 54,475 registrations reflecting a strong new vehicle sector.
"With a strong New Zealand dollar and economic confidence in our two largest cities, we are on track to sell more than 100,000 new vehicles for the year," said Crawford.