Here are a few doodads to thrill even the hardest-core, prestige thrill-seekers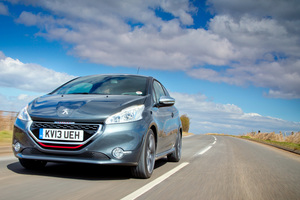 Peugeot Design Lab has devised a surfboard inspired by the brand's fine history in hot hatches - and the forthcoming 208 GTi, of course.
Why a surfboard? Ostensibly, it's a showcase for the talents at Design Lab, a studio that's also available to clients outside of Peugeot.
The GTi Surfboard Concept blends traditional wood construction with carbon fibre technology. Or, according to Peugeot's press blurb, the front (wood) represents "emotion" while the rear (carbon fibre), with its quad fins, symbolises "motion" - which, of course, fits in with Peugeot's current corporate epigram of Motion and Emotion, so you can see what they've done there.
Which brings us to the point: the GTi Surfboard Concept is an attention-getting design exercise that allows Peugeot to draw all kinds of comparisons between the types of thrill-seekers who ride the waves and the kind of thrill-seekers who drive its performance cars.
Fascinating stuff, which does bring to mind a question that we've surely all asked ourselves at times: what would result if other carmakers created sporting equipment that celebrated their heritage and design talents?
We can only imagine - and then write it down. Here goes.
FPV bow
Draw back and hold your breath: archery is a sport of high concentration, extreme acceleration - and very straight lines. The FPV Bow and Arrow Concept will shoot towards a stationary object at awe-inspiring speed - perhaps even too fast for the naked eye to see.
What it won't do is go around corners. And really, the only way to stop it in a hurry is to hit something.
Aston Martin cricket bats
Together at last: a very British car marque and a very British game.
The Aston Martin Cricket Bat Set Concept comprises five separate bats constructed of the finest wood that are guaranteed to provide the user with astonishing power and impressive scoring potential.
The five bats are virtually indiscernible in appearance, but don't let that throw you off: they are very slightly different in size and aimed at extremely different playing styles. Honest.
Mini table tennis paddle
Table tennis is an intricate sport: played at high speed with such incredible delicacy and poise, in deliciously small scale.
The Mini Table Tennis Paddle Concept celebrates that association of sheer sportiness with diminutive dimensions.
Customers have access to a bewildering array of customisation options for their paddles - with other design ideas everything from quilted leather handles to racing stripes on the racket.
The Mini Table Tennis Paddle Concept is a remarkable game-changer because, in addition to its style and capabilities, it is also much larger than you might think.
Enormous even, so the paddle, of course, has that much more potential for hitting the sweet spot.
Porsche slalom skis
Slalom skiing is a sport that demands the kind of precision that only the world's most famous sports carmaker can offer.
The Porsche Slalom Ski Concept is strong, sleek and unique in its design. The bindings are mounted at the back, putting all of the skier's weight at the rear to extract maximum power between the poles.
Manoeuvring at high speed takes years of practice and considerable bravery.
But once you've got the hang of it, look out.
Range Rover hiking boots
Truly a boot that can go anywhere: the Range Rover Hiking Boot Concept is constructed from the finest materials and showcases a responsive insole of deeply-cushioned comfort and leading-edge sole technology that enables the wearer to glide over seemingly impossible terrain.
The problem with these hiking boots is, they just seem too nice to get dirty.