This Suzuki three-door is no cheap thrill but a properly sporty small car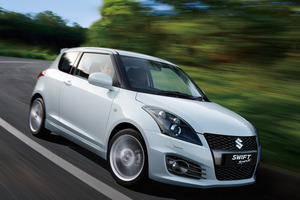 I almost never get asked for marketing advice from car companies, which is strange because motoring writers know everything about the car business. Just ask us.
Anyway, I have some unsolicited advice for Suzuki New Zealand, which introduced a three-door version of the Swift Sport earlier this year at $25,990. I would like to say that price is wrong, because $25,990 is less than $27,500 - which is what it costs for a Swift Sport five-door.
Suzuki seems to be under the impression that a three-door car should cost less than a five-door one. That's only the case with budget and/or mainstream models, which sell on dull things such as practicality and space. When it comes to sporty models, a three-door is more desirable than a five-door and should therefore be more expensive.
This is relevant to the Swift Sport. Firstly, it is guaranteed to be a niche model and therefore rare/special; it's not a value proposition designed to get bums on its tiny sculpted seats. Secondly, this Suzuki is a properly sporty small car, not merely a shopping trolley with stripes.
I will recap the Swift Sport's talents as quickly as possible: forget about other makers' crimes against the "sport" badge because the flagship Swift has an uprated engine, suspension and close-ratio gearbox.
It entertains in a way that is simply indecent for less than $26k.
It won't satisfy the power-hungry.
The 100kW/160Nm 1.6-litre engine takes 8.7 second to get the little Swift to 100km/h. The Sport's appeal has nothing to do with how fast it gets you from A to B but everything to do with how it feels while you're doing it.
It's cheeky, chuckable and thoroughly well sorted. If you don't enjoy driving a Swift Sport, then might I respectfully suggest that you don't enjoy driving? It feels special.
Which is why the three-door version is just that little more special - because it's even more tailored towards the driver.
Style and statement-of-selfish-indulgence aside, the Swift Sport three-door is virtually identical to the five-door in all respects apart from those missing apertures. Equipment levels are the same on both models, including sports front seats and Bluetooth cellphone connectivity (finally).
Surely there is a great deal of opportunity cost in terms of practicality with the three-door? Well, yes and no. If you want a car to carry back-seat passengers on a regular basis then a Swift - any Swift - is probably not the ideal choice. The new model is much more spacious than the old but still half a size down on the supermini mainstream. May I refer you to the tiny 211-litre boot capacity?
There is one further stamp of enthusiast approval for the Swift Sport three-door though: you can buy this model only with the six-speed manual gearbox, whereas with the five-door there's the option of a two-pedal continuously variable transmission.
So there you go: the Swift Sport three-door is a genuine driver's car and it is too cheap. You heard it here first.