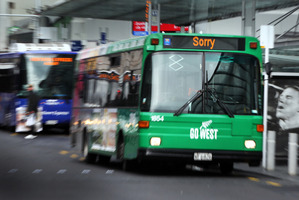 So, apparently some bus drivers are rude to their passengers - especially when they're asked to calculate change required from $20 with a $1.90 fare.
It's difficult stuff and, to be fair, the drivers aren't bankers.
But this earth-shattering news wasn't exactly a surprise to most motorists - we're clever enough to avoid the trials and tribulations of public transport. Buses are filthy, lumbering petri dishes on wheels, and the drivers are generally lacking charm.
Trains offer a slightly better experience, but there's always the nagging doubt they won't show up.
This leaves cars, which come with the disadvantage of extortionate parking fees in town (perhaps that's a penalty for not contributing to a driver's wages).
Their road manners (and this is a gross generalisation not applicable to every bus driver) are about as nicely developed as their customer service skills.
Pulling out in front of a car from a bus stop and then indicating is a particular favourite trick. Today's cover car nearly became the world's first custom compact M6 Gran Coupe on Tamaki Drive when a bus driver didn't indicate.
It's that time of the year again - way too quickly. It seems only a few months ago that we were shouting at each other across a table and arguing about what the car of the year category winners should be, and which should be getting the overall gong. In the end, it was Mazda's exceptional CX-5, with its fuel-saving diesel engine, light weight and impressive overall execution.
About this time of the year, we start to put together a list of possible contenders - based on cars we've enjoyed driving this year, be it on overseas launches in pre-NZ specification or driven locally.
The vehicles need to be exceptional and they must be on sale in New Zealand before they make the final list. What do you think we should be looking at for the 2013 Car of the Year?