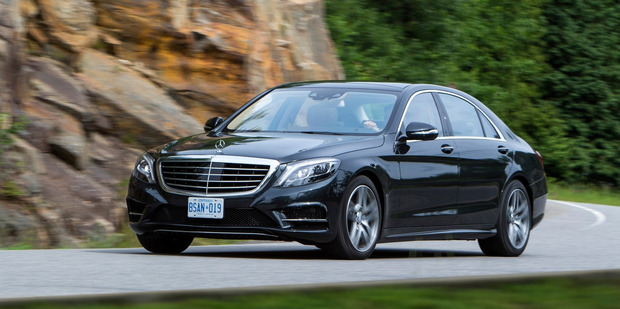 Mercedes-Benz has lifted the covers on its new luxury S-Class range - the flagship model for the brand which is traditionally used to launch new technologies that will eventually trickle down through other models.
One of the new model's marquee tricks is Magic Body Control, which uses cameras and radar to read road conditions ahead and adapt suspension to absorb any bumps and keep its executive occupants in the comfort to which they're accustomed.
Kiwi S-Class buyers will have to wait until the end of the year before the first cars arrive in New Zealand, and there will be a handful of other models released in 2014, possibly including a twin-turbo six-cylinder S400, previously not seen in our market.
While pricing and exact specification is yet to be announced, it has been confirmed which models will be available this year, and some possibilities for the new year.
The Q4 launch of S-Class here will see the hero V8-powered S500 in both long and short wheelbase versions, a diesel six-cylinder BluTec 350 in both configurations, and the grunty S63 AMG short wheel base twin-turbo 5.5-litre V8.
Next year's lineup will see the range-topping long wheelbase S600, and the S400, with a 2.1-litre diesel hybrid S300 "90 per cent confirmed", according to Mercedes-Benz sources.
It is speculated the S-Class coupe will be launched at the Detroit motorshow in January, which will include an S65 AMG that is tipped to join the Mercedes-Benz range in Australia, and possibly New Zealand.
An S500 hybrid is planned to be launched at this year's Frankfurt Motor Show - following the accidental release of an interior image showing a hybrid charging screen. The global reveal of the petrol plug-in vehicle does not necessarily mean it will be released in the local market, although it would be a solid demonstration of Mercedes' hybrid chops in a burgeoning automotive segment.
The sedan versions of the S-Class are being launched over the next few days in Toronto, Canada, with demonstrations planned for a number of technologies, including new safety systems and more advanced versions of existing ones - some of which have already been seen on the freshly-launched E-Class.
Among these is a pedestrian and animal recognition system which warns of imminent danger at night, even using a flashing directed light to reveal the potential threat.
There are a total of eight cameras on board to run various systems including pedestrian recognition, night driving assists and 360-degree surround vision.
Lighting has taken a big jump with the new S-Class - it's lit up light a Christmas tree, but doesn't have a single light bulb on board. There are, however, a whopping 500 LEDs onboard, with up to 56 in each headlight, 35 in each taillight and around 300 for the interior.
The illumination technology line-up includes taillights that dim according to exterior light sources so as not to blind cars that are following, and a clever high-beam system that maintains peripheral lighting but protects both cars ahead and oncoming traffic from bearing the brunt of the bright LED light array.
Driven will get behind the wheel of the new S-Class tomorrow, NZ time, and will even get the chance to try out the new pedestrian avoidance system (although it has been made clear by Mercedes-Benz that we will not be testing this on real pedestrians). The car's full line-up of tricks and abilities will be featured in next Saturday's issue.