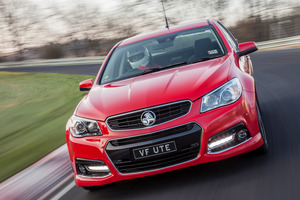 Holden's new VF SS V Redline ute has proven itself the ultimate sports machine and a world-beating performance car by setting a world-record lap at the toughest racetrack in the world - Nurburgring in Germany.
With Holden Dynamics engineer Rob Trubiani at the wheel, the Aussie-built vehicle posted a sizzling 8m 19.47s lap - faster than many exotic sports cars.
"We came up with a plan to tackle the Nurburgring and break the world record for a commercial or utility vehicle but when we did our research it seemed one didn't exist, so we decided to set a record instead," said Trubiani.
"Without a lap record to break, we sat down and calculated what we thought the ute could do and targeted around 8m 30s. Initial practice sessions at the track confirmed that was a stretch target so that's what we aimed for. To slash 11 seconds from that time with an 8m 19.47s lap was incredible. There may not have been a utility-vehicle record before but I'm proud to say the VF SS V Redline ute is now the Nurburgring benchmark."
This lap time was set during a full run of the Nordschleife section of the Nurburgring, a total of 20.8km.
The SS V Redline models are equipped with ultra-sports tuned FE3 suspension, the widest wheels and tyres fitted to a mainstream Holden and the first split front and rear tyre arrangement.
The SS V Redline chassis and suspension set-up includes new spring and damper tunes front and rear, larger stabiliser bars and stiffened suspension bushes. Brakes are track-tested, including front Brembo disc brakes using four-piston callipers.