Pikes Peak veteran races to the clouds in an electric car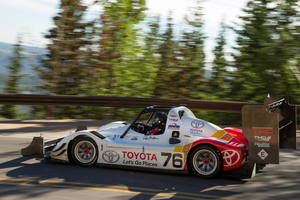 Competitors negotiate 156 turns over the 20km tarmac course that ends 4300m above sea level at the summit of Pikes Peak in Colorado.
If someone floated the idea a few years ago that one of the greatest exponents of one of the oldest motor racing events in the world would be competing in an electric car, he'd probably have been taken outside for a quiet word.
New Zealander Rod Millen has won in just about every championship he's contested, especially off road, and has won more Pikes Peak International Hill Climbs than you can poke a stick at.
Pikes Peak is called the Race to the Clouds for a good reason. Drivers and riders take on 20km of switchback tarmac that climbs to 4300m above sea level.
Not only are the engines gasping for air by the time they get to the top, the drivers themselves are sucking in lungs full of oxygen after negotiating 156 turns at breakneck speed. The race is the second oldest motorsport event in America, eclipsed only by the Indianapolis 500.
This year it attracted 157 racers in 70 cars plus 87 motorcycle racers and was watched by about 30,000 fans.
This year, 62-year-old Millen and his long-time rival of the same age, Nobuhiro "Monster" Tajima, renewed their battle at Pikes Peak. However, the pair took each other on in vehicles no one in their right mind would have thought they'd be sitting in - electric cars.
"Here's how I see it racing an electric car. At my age, they reckon if I can handle an electric race car, I should be good for a transmission to a mobility scooter in the near future," says Millen with a chuckle.
"All joking aside, have you seen the specs on this thing [Toyota TMG EV P002]? It's got 1200Nm of torque and develops 400kW of power and so gets with the programme pretty quick."
This is the same car that won last year's Pikes Peak electric division in a record pace of 10m, 15.38s to finish sixth overall, 30 seconds behind race winner and record holder Rhys Millen, Rod's son.
"The car's had a good going over and now develops more power and has had extensive upgrades throughout. It now has a lot more aero front and rear, and the work's been done at the Toyota Racing Development factory, which also deals with their Nascar vehicles.
"We're now getting about as much downforce as my old car - about 1000kg at 160km/h - and a max of 2.4Gs in the corners. This is a serious little race car now," says Millen.
One of the good things about racing an electric car is there is less to think about in the cockpit when it comes to gear changes, torque curves, power delivery, fuel burn and the such. "I was chatting to Rhys and he was saying his gearing was a little wrong and the boost was coming on a little late. I told him I was having my own problems - I'm still in first gear the whole way up the hill," says Millen laughing.
All the other attributes of driving a racecar quick are still in place though, with mechanical grip, chassis balance, pitch and roll all working in the same way as a conventionally powered internal combustion engineered car.
The TMG EV P002 does have its own particular quirks though and that was a challenge for Millen. Trying to get his head around the lack of noise was a good one for starters.
"It's pretty interesting driving this thing. It's got a flat torque curve and lots of downforce. It's much like driving a normal racecar with understeer in places and power oversteer in others.
"The one thing you do notice is the lack of mechanical noise. You can really hear the wind noise over the aero and the tyres squealing but the sensation of speed isn't really there.
"Without knowing what the revs are, what gear I'm in, how hard the engine is working I don't know whether I'm doing 160km/h or 190km/h [there's no speedo in the cockpit]," says Millen.
He said it also threw off his braking marks. In the past you could gauge when it was time to brake when you were at the top of a gear.
"Also there are no braking markers at Pikes Peak so I had to go out there and pace out a few corners and put a rock on the side of the track."
Drivers only practice and qualify on sections and don't get a full run until it's race time. Millen couldn't manage to get under 10 minutes and had to settle for fourth in class and 16th overall. Tajima took the electric class honours.
Sebastien Loeb destroyed the old record in his purpose-built Peugeot 208 T16 with a blistering run of 8m 13.878s. He beat the previous record of 9m 46.164s by over a minute and a half.