Riders of KTM's new bruiser will never have to beg for more power, says Jacqui Madelin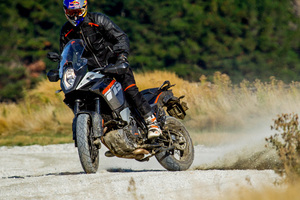 Kiwi Chris Birch has become a bit of an extreme enduro legend, a star of such insane events as Romaniacs and Erzberg and the only man to win the Roof of Africa event three times.
Yet today, he's riding with me. Or, more accurately, he's bouncing off the scenery, for we're mounted on KTM's 1190 adventure bikes, powerful, big-boned machines capable of monstering almost any terrain, though perhaps not with me aboard. I'm an occasional trail rider most at home on a lightweight, dual-purpose 250, and built on more compact (and far less muscular) lines than my companion.
But KTM-sponsored Birch has taken his mighty 1190R on cross-country adventure rides better suited to sub-400cc machines, and discovered it's more capable than its 990 predecessor, now languishing in his garage: "You had to be a pretty good rider to manage the 990 off-road. This one takes care of you."
I'm on the standard 1190, almost identical but 30mm lower, with a smaller 19-inch front wheel and aimed at any-roads riding rather than the gnarly stuff his R, with its knobbly tyres and already ingrained dirt, is destined for.
I'm squinting incredulously through the rain as Birch ricochets the 230kg machine from bank to bank, powersliding round corners or standing it on the back wheel in a cloud of spray.
KTM used the 1190 RC8 R superbike's twin-cylinder powerplant as a base for this machine, here with 110kW on tap at 9500rpm and 125Nm of torque at 7500.
Then it added a swag of technology, with three-mode ABS brakes, including an off-seal mode that allows full slip to the rear, and traction control, both tuned for this format.
Birch says he normally hates ABS, but on this bike uses the off-road mode.
"It's the first one that helps rather than scares the crap out of you on the loose stuff."
The traction control is really unobtrusive, too. I'm winding the throttle on out of corners and that rear tyre's hooking up despite the sloppy surface on this wet dirt road.
Birch uses the electrically adjustable suspension - with modes for one or two people, with or without luggage, in comfort, sport or off-road - and he's also put this KTM to the ultimate Kiwi test.
"I've been taking it stupid places and turning up on trail rides on it. People ask me where I'm going to use all that power - I'm not!"
Forget full throttle, it's control he's after and he's impressed with the way the two combustion profiles - one for smooth power at low rpm and the other more aggressive - mean the bike is reluctant to stall over tricky, slow going.
"It's much easier to ride slowly than the 990 or old 950s."
Aggressive is an understatement on full throttle, and I'm making the most of the bike's powerful acceleration to keep Birch in sight on the tar, flicking through the gearbox and appreciating this slipper clutch, which requires little more than light lever pressure to change gear.
Back at base and drying out - Auckland being much wetter than the Queenstown location for these photos - I peruse the accessories catalogue.
The rortier-sounding Akrapovic slip-on muffler ($2065), crash bars ($542) and touring panniers ($1807) the bike's set up for will be popular. Wusses like me may add the heated grips ($329) and seats ($955) and perhaps the taller screen. That's on top of the $26,500 ($27,500 for the R) price pitched at the closest competition - BMW's 1200 GS variants, and Triumph's Tigers and Explorer.
Of this KTM pair, Chris Birch would choose the R, as he can "ride it from Mum's house to Woodhill's trails, tackle all the expert sections then ride home. It's surprisingly capable if you have the legs and a bit of strength to handle it."
I'd stick to the standard machine for its controllability on any surface, muscular engine response and the capability to take me from Kaitaia to Bluff in comfort, whatever the terrain.