3 Series Touring may change BMW customers' loyalty to their sedans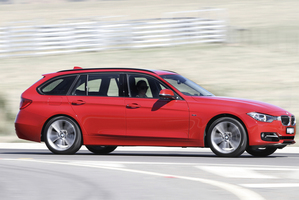 What does four-wheel drive usually bring to a family wagon? Some extra traction and that's about it. I don't mean that in a pejorative way: traction is sometimes hard to come by in winter conditions and any extra that's on offer is most welcome.
But add four-wheel drive to the BMW 3 Series Touring (that's BMW-speak for wagon) and you get a car with an entirely different handling character.
While most all-paw systems wait for slippage then react by shifting torque around the car, BMW's xDrive system tries to think ahead.
The power is split 62 per cent rear/38 per cent front in normal driving. But rather than waiting for loss of traction, xDrive monitors everything from individual wheel speeds to the machinations of the stability control system to predict loss of traction and apportion torque to prevent it happening in the first place.
Now, this "what makes it special?" sound bite might seem like it's come straight from BMW's marketing presentation to media. It did.
But in practice, xDrive really does work that way, as I found out during a week with the 320d Touring in the most horrendous weather conditions. Seamless standing-start acceleration is a given, but that's not the main point of difference.
It's when you come to a tight corner on a wet or loose-surface road that xDrive really makes its presence felt. In a hurry? Slow in, fast out being the accepted cornering method in tricky conditions, you'd expect to have to creep around a bend until the apex appears, then apply as much power as possible to use the traction of four-wheel drive to accelerate away.
You could do that in the xDrive 3 Series. But by the time you've arrived at the corner, this car has already worked out what kind of surface you're on, what you need to do next and how best to achieve it.
You go into a corner with confidence because xDrive is already compensating for the conditions; for example, if understeer threatens as you turn in, more torque is sent to the rear axle to keep the chassis on track. Even if wheelspin takes the system by surprise, you'll get no more than 20 degrees of slippage before the affected axle is isolated and the problem addressed.
That can all be explained in theoretical terms, but what's surprising about the Touring xDrive in such conditions is the way it feels: almost completely neutral and therefore not at all like a regular 3
BMW's clever 3 Series Touring X-Drive.Series, which is a machine with a wriggling tail that you'd never mistake for anything other than a rear-drive car on winter roads.
It's a remarkable system, so is xDrive worth the extra? There's where BMW New Zealand has been a bit crafty. Of the three Touring xDrives available, only one has a direct equivalent in the rear-drive range: the entry 320i turbo-petrol, which at $83,800 costs $4000 more in xDrive form.
So really, you don't have to decide. The other two 3 Series Touring xDrive models are turbo-diesel: the 2-litre 320d (135kW/380Nm) tested here at $84,400 and the range-topping $112,500 330d. You can't have either engine in a rear-drive Touring, although of course you can in the sedan.
But who'd have a sedan when the Touring is so good-looking and superbly packaged? The rear seat is split 40/20/40, the tailgate is split into two sections (the glass opens separately) and a cargo divider is standard.
No, the 3 Series Touring will not come anywhere near challenging the sedan for sales because BMW is not known for its wagons in New Zealand.
That probably won't change because it takes a long time to change people's perceptions of a brand. But based on the quality and variety of the 3-series Touring range, it really should.