Dixon's partner tells of life in the slower lane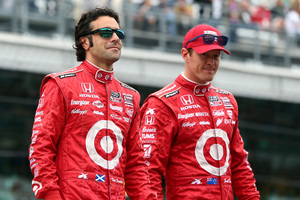 Target Chip Ganassi Racing IndyCar drivers Scott Dixon and Dario Franchitti continued their run of miserable races at Iowa last weekend, finishing 16th and 20th respectively in round 10 of the championship.
Dixon slipped to seventh in the series and Franchitti is in 12th.
But between them they have won the IRL championship every year between 2007 and 2011. Franchitti won in 2007, 2009, 2010 and 2011, and Dixon took his second title in 2008.
With the introduction of the Dallara DW12 car last year, the landscape of IndyCar racing changed and the dominant teams of Penske Racing, Ganassi Racing and Andretti Autosport were no longer kings of the hill.
The new chassis and engines changed the competition and, last year, Ryan Hunter-Reay won his first title, while this year's championship is open to anyone.
Kiwi driver Dixon has spoken to Driven on many occasions about the season's trials and Driven wanted to know what it was like for his teammate Franchitti and how they were dealing with having to compete in a less than perfect car.
"Scott and I were just talking about how we can try and what to do to improve the cars and get back to where we were in the years when we were winning," said Franchitti.
"It's been a tough two years with the only highlight being winning Indy. We've been okay on the road courses but are absolutely nowhere on the ovals.
"The number 10 car [Franchitti's] has not been as good Scott's car, but he's had some really bad luck and all we do is really circulate on the ovals.
"I think we made some bad decisions in development in the winter and went down the wrong road.
"Honda has been struggling a bit with the engines and it's all compounded into the issues we're having now. I think it shows what a good job we did over those winning years. Some people thought it was just the norm, but we were saying this not normal it's bloody hard work.
"Unfortunately, we're proving now just how hard it was. But I tell you what, we're working damn hard to get all the things fixed we need to."
The drivers in the series appear to have a lot more camaraderie than in Formula One. That's not to say the IndyCar guys aren't as competitive as their European counterparts, but they seem to know when to take the fight to each other, and when to leave it on the track.
"Sometimes I feel we've done ourselves a bit of disservice in that regard," said Franchitti. "The uneducated fans think we're all just mates and we're obviously not trying that hard.
"What we have done is a really good job of separating off track and on track."
Franchitti and Dixon are good mates away from the circuit, which surprised a few when Franchitti, a Scot, joined Ganassi Racing, as he had just pipped the Kiwi for the championship in 2007. Franchitti again just beat Dixon in 2009; the year he joined the red machine outfit.
"Scott and I, as well as being teammates, are really good friends off the track. But when we race against each other, we want to beat each badly and we'll push as hard as it takes," he said.
When he joined the team, it was obvious things gelled quickly and a lot of that was down to that big battle the pair had in 2007. Right from the start there was mutual respect between the two.
"Scott's been in the hunt for a championship for most of the time he's been in the series, and everyone knows that to win a championship you have to go through him to do it," said Franchitti.
Last weekend was a low point for the year and they need to turn things around for the next round in Pocono, Pennsylvania, on July 7. The IndyCar championship hasn't visited Pocono since 1989 and the triangle track has an unusual configuration that will be a challenge for the mechanics and engineers.
Some teams are testing this week at Pocono, but the Ganassi Racing pair wheeled their single seaters out at the Sebring International Raceway in Florida.