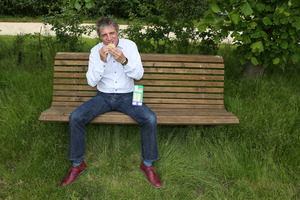 In what seems to be an inexplicable concept, UK petrol station chain Tesco has recruited two-time British Touring Car champion Jason Plato to ... create a sandwich for it.
Laugh as you might, but the former champ has a passion for sandwiches and last year created the Deli Club Ham, Coleslaw and Jalapeno mayonnaise sandwich for the chain, which proved successful, so this year the association continued with Plato's latest creation; the West Country Cheddar, Onion with Spinach and Chive Mayo.
Despite the reported sales success of last year's sandwich, The Good Oil suspects the continuation of the idea has more to do with the fact that a picture of Plato eating his creation went viral, with people photoshopping him into various exotic locations.
Everyone's a designer
It seems the horror you can inflict on your new Aston Martin seems to know no end, if the online configurator for the new Aston Martin Vanquish Volante is anything to go by.
A wide selection of exterior and interior leather colours is available on the site, along with trim options and even brake caliper colours. Perhaps a little bit too wide, as some of the combinations are ''visually challenging'' and seem to exist that the owner's only sense of taste is in their mouth.
While the range of colours is extensive, unfortunately at no stage does an alert pop up saying: ''Warning: you appear to have made your Aston Martin completely sales-proof. Are you sure you want to keep it forever?''
If you have the stomach for it, try your own horrific combinations here: astonmartin.com/en/cars/vanquish-volante/vanquish-configure
We are the world
*Texas police officer Keith Moore had an unusual experience when handing a speeding motorist a ticket recently; he was attacked by a monkey. The animal was said to be ''well behaved'' most of the time except for when its owner is getting a speeding ticket, it seems.
*When Dutch police were called after reports of a stolen car being taken for a joyride, the ''criminals'' they caught were two brothers aged 5 and 7. The pair had taken their
grandmother's car for a quick 7km spin before coming to rest on a metal post. They get some marks for safety: ''At least I had my seat belt on!'' the 7-year-old said. ''And my brother was in the child's seat.''
The car that parks itself while you shop
The desolate, hellish future where there is no driver enjoyment left because the cars drive themselves got a step closer recently when Volvo unveiled its latest self-parking system.
Now, self-parking systems are increasingly common in new cars these days, but Volvo has added a twist the driver doesn't need to be in the car.
The autonomous Volvo will even roam a carpark looking for a space without its driver, and is claimed by Volvo to interact ''safely and smoothly with other cars and pedestrians''.
There is a catch, though. The car relies on ''Vehicle 2 Infrastructure'' technology transmitters in the road which informs the driver when the service is available.
The driver uses a mobile phone application to activate the Autonomous Parking and then leaves the car to do its thing.
The vehicle uses sensors to find a free parking space and the procedure is reversed when the driver comes back to pick up the car.
VW trumps Transit van
From the ''Records you really didn't expect anyone to care about'' file comes news that the lap record of the Nurburgring for a commercial vehicle has been broken.
Originally set by Sabine Schmitz in a diesel Ford Transit van for the Top Gear television show in 2004, the record has stood at 10 minutes and 8 seconds since.
But now German Volkswagen tuner Revo has beaten that record with a modified VW T5.
The T5 was modified with the addition of a bespoke ECU remap, Milltek ''turbo-back'' exhaust system and a Forge intercooler/oil cooler combination, taking the engine to 164kW.
Chassis duties were taken care of with a simple addition of a Bilstein B14 coilover kit, lightweight Team Dynamics wheels and a set of sticky, but fully road legal, Dunlop Direzza tyres.
The T5 cracked the record on its first attempt, setting a time of 9 minutes and 57 seconds.

Number Crunching
37 COLOURS The hues available for an Aston Martin Vanquish Volante.

27 COLOURS The interior leather shades available in the Volante.
5 COLOURS The options available for the Volante brake calipers.

99 CUSTOMERS Out of 100 Volante buyers who will still just select silver for their exterior colour.