Ben Townley will debut in the Tarawera 100, writes Andy McGechan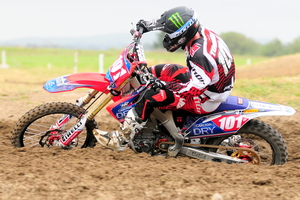 Cross-country dirt bike marathons such as the Tarawera 100 require speed, courage and stamina in equal doses.
The 100-mile (160km) course from which the event draws its name is typically as much a test of doggedness and determination as it is a battle of pace and power, and the riders know they'll be pushed to the extreme when a shotgun blast signals the start to this iconic race near Kawerau on July 13.
One man who should feature near the front of this year's pack is Tauranga's Ben Townley, even though the Honda star will actually be a first-timer at the event.
Mount Maunganui's Cody Cooper (Suzuki) became a four-time winner when he came in first last year, leading home Hamilton's Darryll King (Yamaha), Mount Maunganui's Rhys Carter (Suzuki) and Whakatane Honda hero Mitch Rees.
Overseas obligations mean neither Cooper nor Carter can race the Tarawera 100 this season, and Rees is injured - but for the first time in over a decade, Townley is free of international commitments.
He's also 100 per cent fit.
The Tarawera 100 has typically clashed with Townley's responsibilities abroad, but since he announced his retirement from full-time professional motocross earlier this year, he's now free to make his much-anticipated first appearance at the cross-country event.
Townley's no stranger to top-level motocross, having won the 2004 MX2 world championships and the New Zealand MX1 championships in 2012, but as a Tarawera 100 novice, he's not about to make any bold predictions.
"I've done a bit of cross-country racing over the years but I've never been able to race the Tarawera 100 because I've been overseas at that time of the year. This will be my first crack at it and I'm really looking forward to it," says the father of two.
"I know it's going to be pretty gruelling, so I've been prompted to get off the couch and do a bit of training," he laughs.
"It's one of the toughest races around, but I really just want to have some fun and I don't have any real expectations. I should be fit enough because I'm also racing a desert race in Australia the weekend before the Tarawera 100. It's the same type of event, so that will be great preparation."
Organisers report that the venue will be the same as last season, on bush and farmland near Te Teko, but 30 per cent of the race will be on freshly cut track and many sections have been bulldozed to create a very new course.
The event usually attracts a wide cross section of riders from various dirt bike codes, including leading Enduro riders such as national champion Chris Birch (KTM), while fellow Aucklanders Chris Power (Yamaha) and Freddie Milford-Cottam (KTM), and Tauranga's Reece Burgess (KTM) are also likely to be contenders.
They will hope to match leading cross-country exponents, such as national champion Adrian Smith (Yamaha) of Mokau, Palmerston North's Adam Reeves (Yamaha) and Te Awamutu's Mark Penny (Suzuki).
Motocross heroes Peter Broxholme (Honda), Cambridge's Damien King (Honda), Rotorua's Scott Birch (Honda) and Palmerston North's Tom Hughes (KTM) are also among the favourites.