Now the 500L is little only on the outside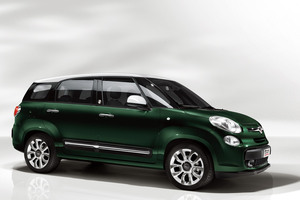 In five and seven-seater variations, the 500L Living acknowledges families' need for space and comfort.
Fiat's bambino is all grown up with the launch this week in Europe of the seven-seater 500L Living.
It is the fourth variant of the Fiat 500 and offers the compact external dimensions of a small car with the comfort of a wagon and the versatility of a multi-purpose wagon.
The launch of the Fiat 500L Living provides New Zealand's new importer, Fiat Chrysler NZ, with an even larger choice of models with which to implement Fiat's growth plans in this country. A decision on the versions for New Zealand will be made next year when it becomes available for this market.
The 500L is now available in two versions: the five-seater, which is on sale in Europe, and the seven seater, or the 500L MPW as the car will be known in the UK, which has even more interior space.
With an additional third row of seats, the new car is the most compact 5 + 2-seater MPV in its segment: it is 435cm long, 178cm wide and 167cm high.
What's more, despite being 20cm shorter than a typical compact wagon, Fiat's 500L Living ensures exceptional value in terms of comfort, space and load capacity, as demonstrated by a maximum boot volume of 638-litres.
The range includes two trim levels (Pop Star and Lounge), 19 body colours (including 11 two-tone combinations) and six interior trims, 15 types of alloy wheels and hubcaps: in total, no fewer than 282 combinations are possible. The Fiat 500L Living offers equipment worthy of a higher segment, such as leather interiors, an integrated navigation system and rear camera to help with reversing.
The 500L Living will be produced in the new Serbian factory at Kragujevac. Orders will open in July in Italy, and will be extended progressively around the world.