Some winners go home early, writes Andy McGechan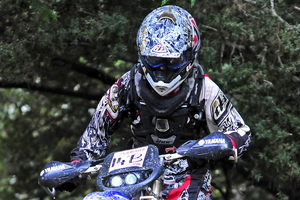 Riders' emotions are mixed after the revelation that Motorcycling New Zealand has been forced to cancel round seven of the NZ Enduro Championships.
Many of the riders are disappointed that the Yamaha-sponsored series, originally slated for eight rounds, will now comprise just six events. For others, the scaling back of the championship means several riders can celebrate early, their respective titles now in the bag.
Round two of the series, set for Riverhead Forest in March, was postponed because of fire risk then cancelled, reducing the series to seven rounds.
Then came news last week that round seven of eight, set for Taupo on July 20, has also been cancelled - "due to the promoter of the event being unwilling to hold this NZ Championship event under Motorcycling NZ rules" - leaving the final round near Tokoroa on September 21 to wrap up the championship.
One of those riders celebrating victory is Kiwi rider, bikesportnz.com Yamaha ace Callan May, the Titirangi man able to claim the under-300cc four-stroke class title for 2013.
May is 30 points ahead of his nearest rival for the class title, Northland Yamaha rider Mitchell Nield, and with riders able to discard their one worst result, it means May can afford to skip the final round in Tokoroa and still claim the prize.
He has finished 2-2-1-1-1 in the five rounds raced thus far. He rode
a Yamaha YZ125 to win the national under-200cc two-stroke crown last season, but stepped up to the bigger Yamaha YZ250F this season.
"It's a real shame there won't be a Taupo round this year. I really enjoy riding at Taupo," says May. "But then I'm happy, too. I've now won back-to-back Enduro titles.
"I'm thrilled to take the four-stroke title this year already, but that doesn't mean I'll be taking any prisoners at Tokoroa. I'll be going hard-out there. I'm fourth outright at the moment and maybe I can finish as high as third, or even second."
Auckland's Freddie Milford-Cottam (KTM) is in an identical position to May. Milford-Cottam is 30 points clear of his nearest rival for the under-200cc two-stroke class title, Hokianga's Damon Nield (Husqvarna), meaning he has secured the crown this season.
Tokoroa's Sean Clarke (KTM) is 38 points ahead of Taupo's Mark De Lautour (KTM) in the expert veterans' class and he had already wrapped up that title before the round-seven cancellation.
The only two titles to be decided are the two open class categories.
There are still 25 points available to the winner of each class at Tokoroa, although Auckland's Chris Birch (KTM) is 21 points ahead of Tauranga's Reece Burgess (KTM) in the battle for over-300cc four-stroke glory and his eventual class win seems a mere formality.
Mokau's 2012 national Enduro champion, Adrian Smith, is 18 points ahead of 2010 national Enduro champion Jason Davis (KTM) of Whangamata. Smith (Yamaha YZ250) won the national cross-country championships earlier this season but must fight to keep Davis at bay as the series winds down.