It's style over substance, but it's worth it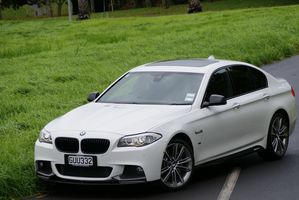 This might be a manchild thing, but when car meets carbon fibre it's a special bond.
Carbon fibre is an exotic material known for its combination of strength and lightness (and high cost). It's used in aviation, high-end yacht building - but most importantly in racing cars. Especially Formula One racing cars.
So carbon fibre on road cars is exciting. Little wonder that there's so much "carbon-style" trim used on new cars. "Carbon-style" meaning plastic with a texture on it that is vaguely reminiscent of the real thing.
Real carbon fibre on road cars is a rarity, but it's out there. Quite a lot of it is attached to the new BMW 530d Performance Edition: front and rear spoilers, side mirror caps, dashboard inserts. It's a distinctly non-functional use of the material. So it's a bit ridiculous but really cool all the same.
Don't get me wrong, BMW knows how to use carbon fibre properly. It's on the roof of the M3 and M6.
The forthcoming and quite futuristic i3 and i8 models embrace it as a construction material.
However, on the 530d Performance Edition, carbon fibre serves no purpose beyond showing off. But it's cool nonetheless. I think BMW has judged the potential customer perfectly: the car comes only in white, all the better to showcase the extra black stuff. This car is for the person who likes 20-inch alloys (standard) and who revels in boy-racer black plastic side skirts with lurid "M Performance" decals on them. Guilty.
The black-attack styling features might sell it alone, but the 530d Performance Edition has plenty more to offer. It's in a similar vein to the Edition 30 1-series and 3-series models BMW New Zealand did earlier this year: a standard model wearing a lot of extra equipment for minimal increase in price.
Or no increase in this case. This particular 530d carries about $40,000 worth of equipment but lists for the same $131,900 price as the regular car. Even taking into account the ridiculous price of some BMW options, that's still an attention-grabber.
Some kind of runout, surely? Well, yes and no. There is a facelift 5-series on the way (or Life Cycle Impulse as BMW likes to call its model updates), but we won't see that for six months. It's done in a clever way by adding value rather than slashing prices. True, you won't be too pleased if you've just bought a pre-Performance 530d; but accepting such retail action is a fact of life, doing it this way does a better job of protecting residual values.
The 530d is a brilliant car; this much we know. The 5-series is, after all, a former New Zealand Car of the Year. The 190kW/560Nm 3.0-litre turbo diesel engine and eight-speed automatic transmission are a sublime combination. The rear-drive chassis sits just-so on the cusp between handling and comfort - even with those monster wheels.
Despite the name, the Performance Edition doesn't go any faster, but you do get Electronic Damper Control (EDC) and the suspension setup that comes with the M Sport kit. This car also gets the virtual dashboard from the 7-series - the entire instrument panel is a computer graphic that changes according to whether you've chosen the Eco Pro, Comfort, Sport or Sport+ driving modes.
Also standard are Xenon adaptive headlights with automatic dipping function, sports seats with heating, BMW's Professional navigation system, head-up display with speed limit information, keyless entry/start - and so on, and so on.
I saved the best for last: the 530d Performance Edition is also fitted with a racing-style flat-bottomed steering wheel that is upholstered in suede and even has a line of red trim top-centre ...... you know, so you can easily tell where straight-ahead lies when you're sliding all over the place.
Like I said, really ridiculous. Really cool.
THE BOTTOM LINE
Performance Edition styling might be a matter of taste, but you cannot argue with the brilliance of the 530d or the value for money of this special edition.