New Zealand fans caught by debris in motorcycle crash at notorious Isle of Man event.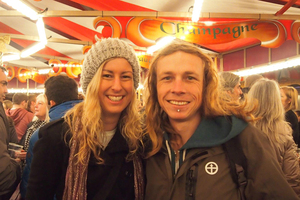 A young Kiwi couple on their dream OE are in hospital after a crash at a notorious motorcycle race.
Aucklanders Tracey Partridge, 27, and Luke van den Bos, 32 were left with serious injuries to their lower legs and face a long recovery at the end of what was planned as a holiday from their working lives in London.
They were among 11 spectators severely injured at the weekend when debut rider Jonathon Howarth crashed into the crowd during the last day of the International Isle of Man Tourist Trophy (TT) Race.
Since 2000 50 people have died at the event.
Ms Partridge told the Herald by phone from her bed at the Isle of Man's Noble Hospital last night that she saw the rider slide across the road towards her and that after that it was "all a bit of a blur".
"I turned myself around thinking 'get out of here' but it came through a steel fence in front of us and it hit us and pushed us into the picnic table and chairs that were there."
Since leaving New Zealand in April last year to travel, the pair have been working in London, Ms Partridge as an admin clerk and Mr van den Bos as a plastic fabricator.
Ms Partridge broke her right ankle and has already had screws inserted in one operation. She was last night due to go into surgery again to treat an open wound at the back of her leg.
However she said her partner's injuries were worse.
"My bones need to be realigned. Luke, he is a bit worse. It's mainly in his shin bones - there has been a lot of fractures in both his legs below his knees and in one ankle. He also has an open wound on one of his ankles, like I have."
The injured were rushed on stretchers into ambulances after the accident on the Bray Hill leg of the race. Bike debris and clothing were strewn along the side of the track.
Manx Radio reporter David Harrison, who was at the race, told the BBC that the rider's bike completely disintegrated in the crash.
"The wheel and the petrol tank of the bike flew straight across the road - it actually came over my head, only yards away from us," he said. "Everyone ducked and screamed and ran away in the panic."
Orthopaedic surgeon Ian Wright operated on all of the victims and gave a hospital press conference saying the bike that crashed into the spectators "took out the lower half of their bodies".
Injuries included "open fractures to the shin bones" but no one lost a limb.
Eight victims were admitted to the hospital, four with serious limb injuries who required surgery. Three patients were to be transferred to British trauma centres for ongoing specialist care, and one was expected to be discharged in a few days, the Isle of Man Today website reported.
Mr Wright said victims would be able to walk and return to work, but it was too early to say "whether they will be completely unimpaired".
The annual race along more than 60km of public streets attracts daring competitors who reach speeds of up to 320km/h.
Huge crowds line the track that has a history of casualties.
Japanese racer Yoshinari Matsushita, 43, was the most recent person to die when he crashed in a qualifying session during the first week of this year's festival.
In the last 13 years, 45 riders, two spectators and three officials have been killed.
The latest crash has reignited calls for the festival to be more strictly regulated, or banned.
Organiser ACU Events Ltd said in a statement: "Eleven spectators have been taken to hospital with injuries ranging from slight to serious. None are believed to be life threatening at this time.
"The police will not be carrying out a full investigation at this stage and it remains a racing incident."