Matt Greenop checks out Toyota's online swing at the modified market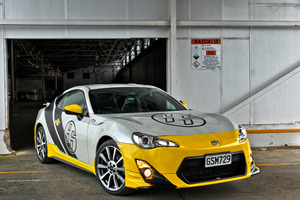 Toyota is banking that sportscar drivers are more trusting of internet commerce than the hybrid crowd as it makes a special version of the 86 available only online.
The 86 - a joint venture between the Japanese giant and Subaru, which sell a near-identical version badged BRZ - is a low-cost, lightweight rear-drive sports coupe that has significantly outsold initial expectations.
Now it plans to sell a stripped-back mod-ready version called the 86 RC and has announced plans for a one-make series based on the race-ready TR86.
When Driven exclusively revealed last November that Toyota was planning to add the two new models to its lineup, we were inundated with emails asking about pricing and specification - which has, finally, been announced.
The 86 RC starts life as a pared-down ugly ducking with no air-conditioning, no stereo system and unpainted front and rear bumpers. This doesn't sound like the best deal in the world, but it's squarely aimed at people who are keen to make their own mark on Toyota's base design - and there's likely to be a few, with a pricetag even below our original guesstimation last year, at a razor-sharp $33,986.
To buy one, there's only one way - on Toyota's website the86.co.nz - and it's much like putting together a custom car in a video game. Visitors to the car-speccing webpage start with the base model as pictured, and can choose different components, from monster TRD brakes at $10,100 to a tough shock and spring combo at $2999 or decals from $999. As these prices indicate, it would be easy to blow the budget, but there are numerous opportunities to change the spec throughout your virtual build and fork over a $5000 deposit.
Once this is done, buyers have to go to their dealer of choice and sign a sales agreement before the car starts being custom assembled at Toyota's Thames plant.
You don't have to add anything to the car if you've got your own parts in mind or are on a tune-as-you-earn budget. Those who go seriously overboard on tweaks might be asked to pay up to $10,000 deposit. Obviously, as with any modified vehicle in New Zealand, there are some cases where a low volume vehicle cert will be needed, but this is done by Toyota before delivery, so customers are delivered a ready-to-drive machine.
Owners of those vehicles that have been tweaked will need to check with their insurer.
Toyota can provide both finance and insurance through its own operations.
This isn't the first time that Toyota has dipped its toes into automotive shopping online.
"The Prius iTech has been online for a year and we've sold two," admits Toyota's GM of sales and operations, Steve Prangnell, but says the limited number of cars available and the huge demand for the very fun 86 should work more effectively.
There are only 50 cars available, and aside from some European countries, New Zealand is the only country to get the 86 RC in right-hand drive.