Inaugural TR86 series to start in November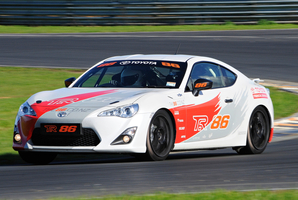 The locally developed Toyota TR86 can be adapted for several forms of motorsport. Toyota has been a fan of motorsport for many years and has had teams, or prepared engines, in just about every form of four-wheel racing.
In New Zealand, it introduced the Toyota Racing Series nine years ago for up-and-coming Kiwi drivers to get a serious taste of single-seat racers.
The series has developed an international reputation as a championship to blood young drivers before they head back overseas to race in Formula Three, Renault or formula championships.
It's become so popular that it's getting more difficult for New Zealand drivers to get a look in, and this year's field was made up of 17 international drivers and three Kiwis.
While the TRS championship will always remain the flagship of Toyota New Zealand's involvement in domestic motorsport, it has found a niche to get its well-received GT86 rear-wheel-drive sports car on to the racetrack.
The company is on to a winner as far as clubman racers, and the odd part-time professional, are concerned by providing the base model to build a great little race car.
TNZ announced late last week it's going to create a racing category for the 86 coupe that will make its debut on New Zealand tracks next summer using a locally developed Toyota Racing version called TR86.
The new series is planned to start at Highlands Motorsport Park, Cromwell, in early November. It will share billing at some rounds of MotorSport New Zealand's summer motor racing championship including the New Zealand Grand Prix weekend at Manfeild in February 2014.
"When the 86 first came through we had the idea that it would likely make a good race car," said Toyota general manager John Fowke.
"It looks like one. Having the RC [race competition] model already available and with a bit of work we could have a one-make series with it as well.
"Since the Porsche GT doesn't have a series anymore, there seemed an opportunity to have a class for a rear-wheel-drive car like this, and since we had one, why not?
"A lot of people are still racing the old 86 car and this is sort of the spiritual successor to that - it just seemed logical. It hasn't been an easy development but the car lends itself to being modified into a race car. It's small, it's light, it's rear-wheel drive and has a great chassis.
"Starting with the RC86 it's like starting with a blank canvas."
The inaugural 86 racing series will cover up to seven rounds over seven months, and the cars are being built with other opportunities in mind. The prototype TR86 was displayed at this year's five-round TRS international race series where it attracted a fair amount of interest.
"TR86 can also be adapted for use in Targa, endurance, hill climbs, sprints and other forms of motorsport events," said TRS category manager Barrie Thomlinson. "The TR86 platform lends itself to all forms of motorsport and we believe the car will have excellent resale value based on its versatility."
The car is fitted with a six-point FIA-approved roll cage, integrated MoTeC dash, Sparco Touring-car race seat and race steering wheel. They also have specially tuned adjustable suspension and a racing brake package and are fitted with 18-inch Speedline motorsport wheels running slick tyres. Each car is built to a low volume vehicle certification, which means the car can be driven on public roads provided the owner holds a Motorsport NZ competition licence.
The cost of the turnkey race car is $78,000 plus GST and includes the MoTeC data dash and an additional set of 18-inch alloy wheels. A deposit of $10,000 will secure the purchase of a TR86.
So as not to feel left out, and to remain the primary focus of TNZ's racing involvement, Fowke also announced a new TRS prototype is being constructed for the nine-year-old series, which will also see an entirely new aero package.
"The TRS is and remains our primary focus,"' he said. "The aim is to have all the design parameters settled before the next TRS series so we can show a prototype of what we are doing, and then introduce the car for the 2015 season."
Provisional race day calendar
November 9 to 11, 2013, Highlands Motorsport Park
November 30 to December 1, 2013, Pukekohe Raceway
February 1 to 2, 2014, Taupo
February 8 to 9, 2014, Manfeild (NZGP meeting)
March 8 to 9, 2014, Taupo
May 3 to 4, 2014, Hampton Downs
May 2014, Pukekohe 6-hour enduro (tbc)