This Italian is all lordly brute force, writes Jacqui Madelin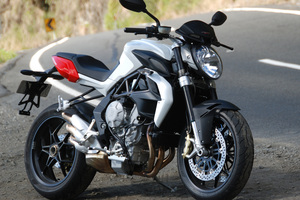 It's been a few weeks since I rode MV Agusta's brutal Brutale 800, yet recalling it still prompts a wide, bad-girl grin. For this bike looks feral even at rest, with that vertical trio of stubby muffler barrels as purposeful as a mortar battery, the hunched tank and wide bars promising backroads hoonery even before you mount.
The mayhem starts as you leave the carpark, arms and shoulders arced in a read-for-anything curve, engine growling and grumbling, on to the road then twitch open the throttle to jerk your arms from their sockets. And no wonder.
This engine's derived from the F3, a sharply focused 675cc sports unit, here with new pistons and a longer stroke to bring capacity to 798cc. The same exhaust valves and combustion chamber work with new conrods and crank to deliver a 13.3:1 compression ratio, more grunt than a pack of All Black forwards and all that muscle delivered across a wider spread of revs, with the 81Nm torque peaking at 8600rpm and power surging to 92kW some 3000rpm later - at just over 100km/h in first gear ...
Pick a cog and ride it on the throttle, second for tight swervery and third as corners open up, cutting power into bends then rolling it on to haul out, that fat rear tyre all but wriggling on the exit, snicking up to fourth and fifth, then sixth as you relax into a cruise, knowing it'll pull in almost any gear.
Back to the tight stuff, down through the gears, carving the next stretch of bends with the subtlest pressure on the bars, the engine seemingly connected straight to your throttle hand as you smack it wide open, 100km/h in second, carving that tighter corner then flicking it upright for the next short straight, riding the torque band as you tip it deeply in then howl out, egged on by the feral soundtrack of an Agusta triple on song.
For sure plenty of hard-core sports bikes are faster than the Brutale on a smooth-surfaced racetrack, but on real-world roads this bike fields the best of its high-rev power at the legal limit via suspension sufficiently compliant to cope.
The Marzocchi front forks adjust as does the Sachs rear, though the set-up it came with was a tad too firm for me, flicking me briefly from the seat over bigger bumps yet remaining resolutely on line.
MV's Kiwi suspension guru confirmed that to get the best from it, you need a screwdriver, a special tool and the right skills to nail it - though even at its softest it'll always be as firm as you'd expect from a performance-focused machine.
Owners seeking track-day fun will access the manic lunacy by pinning the throttle in first, with hair trigger response at anything over 80km/h, and playing with the electronic lap timer and eight-step stability control.
But the point of a bike like this is that you don't need a track to get your jollies. Find a sufficiently demanding road and, while road-registered race bikes require a feathered throttle or are bucking their riders into the weeds, this engine is delivering its magnificent best abetted by a tunable suspension and sticky Pirelli Diablo Rosso rubber.
Yes, I loved it, though the rice-paper-thin pillion pew's guaranteed to keep you single, and first-gear low-revs jerkiness around town took a little getting used to. But who cares when you've got this much real-world performance for a $21,990 price tag that would barely pay for your supercar-owning-neighbour's alloy wheels.