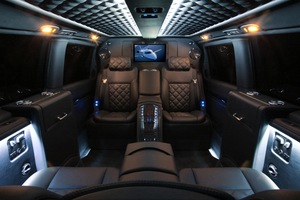 Are you absolutely loaded and like to travel in utter luxury, but want to be discreet about it?
UK "bespoke luxury vehicle specialist" Carisma Auto Design has the solution to your problem.
Carisma will convert a Mercedes-Benz Viano into a bespoke and discreet luxury cruiser or mobile office, with an exclusive agreement with Mercedes-Benz for a global warranty for sales in "select" countries worldwide.
According to the company "No two Vianos from Carisma Auto Design are ever the same", and the specification and design of each conversion is unique.
Carisma boasts a range of multimedia options to suit every need, including on-board Windows or Apple operating systems, Wi-Fi, and Bluetooth for connectivity, as well as Bang & Olufsen audio equipment.
Among some of the recent requests have been solid crystal ash trays and champagne flutes, integrated premium pen sets with tailored housing, customised seat embroidery, 42-inch televisions and refrigeration units.
If a Viano is not to your taste, however, do not despair of getting your desires fulfilled.
The company has a number of alternatives that include other Mercedes models as well as Range Rovers and Volkswagens. Tasty.
We are the world
*A New Jersey detective, Michael Feritta, is facing charges as well as proving himself to
be one of the stupidest people on the planet after rolling his Jeep down a ski slope at the Mountain Creek ski resort. One of the charges is child endangerment, because his 6-year-old son was in the car when he drove it down a ski slope.
The child was thrown from the car, as was Feritta's wife, when the Jeep rolled 20 times.
*A man in Stockton, California, stole a car and then admitted it to the police. But he won't be charged.
Why? Because the car belonged to two men who were robbing a Burger King at the time.
The man was a quick-thinking employee who snuck out the back when the armed men entered and noticed their getaway car, took it and hid it around the corner.
The robbers escaped on foot, but were easily tracked down by police.
Lord aims to zap records
A converted Lola-Drayson B12 69/EV's going for electric car speed records.
Former British Cabinet minister Lord Paul Drayson has announced a bid to break the British and world land speed records for an electric car under 1000kg driving a Lola-Drayson B12 69/EV.
Drayson, who after losing his ministerial positions in the 2010 election dedicated himself full-time to his motorsport interests, has competed in the American Le Mans
Series, the British GT Championship and the 24 Hours of Le Mans before switching to the new EV Cup championship for electric cars, as well as the FIA Formula E championship.
The record-bid car is a Lola-Judd biofuel Le Mans prototype that Drayson's company Drayson Racing Technologies (DRT) has converted into an electric car, removing the Judd V10 and fitting it with an electric power train.
The powertrain consists of a 30kWh battery encased in a carbon fibre cell that is mounted
where the Judd V10 would normally sit, so that it forms part of the chassis structure. There are four electric drive motors two for each rear wheel mounted where the gearbox used to be. There is no mechanical differential, with traction control and torque vectoring
controls being taken care of by DRT's custom electronics.
The car will have the equivalent of around 600kW on tap and it will accelerate from 0-161km/h in just over five seconds.
Drayson will make his attempt at the Elvington airfield, Yorkshire, on June 25.
Funking it up with Fiat
Love Italian cars? Think the original Fiat 500 is particularly cool? Well, have we got a bar fridge for you.
Italian whiteware manufacturer Smeg has just launched the Smeg500 a 100-litre fridge
jammed into a life-size replica of a Fiat 500 nose.
The Smeg500 celebrates the connection between the two companies that began in 1957
and is produced to order. More information is available from fiat500design.com, which also has details of an awesome Fiat 500 coffee table. It is, rather unhelpfully, in Italian, but you get the idea ...