Andy McGechan profiles a junior champ with true grit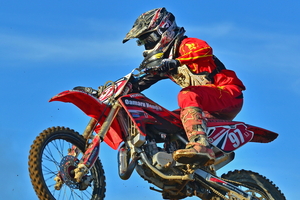 The short story is that Oamaru's Joel Meikle is the new national motocross champion in the 13 to 16 years 85cc class. The long story is that his battle to win was against all odds.
Meikle's tale is one of bravery and a fight to overcome adversity, but in the end this Kiwi with a can-do attitude was untouchable as he led a Honda 1-2-3 at the top of his category at the New Zealand Junior Motocross Championships near New Plymouth recently, winning five races from his five starts.
The 15-year-old Year 11 pupil at Waitaki Boys' High School raced old technology against the powerful might of more modern machinery - add health issues to the equation and it was probably a miracle that he was even able to line up at the Taranaki circuit that weekend.
Meikle raced a 2007-model CR85 two-stroke bike, a type that has not been produced for several seasons, while his main rivals, Te Awamutu's Jacob Steel and Alexandra's Bryn Gilbert, lined up with Honda's latest four-stroke technology, campaigning CRF150R models.
To make it tougher still, Meikle was returning to the action after a long lay-off. He had broken his leg in February last year and later broke his collarbone in another crash, plus his "human engine" was a little down on power; suffering from a rare form of arthritis and taking medication for the disorder, he can be struck with pain at any time.
"I had 15 months off last year and lost 7kg too," he says. "So it was great to be able to race and win my first national title. Next season I plan to ride a Honda CR125 and a Honda CRF250 as well, and I hope to go racing overseas soon too. I want to be a professional racer - it beats working for a living.
"No, seriously, racing motocross is very hard work, but it can be very rewarding too."
While Meikle was dominating his class, fellow Honda star Maximus Purvis was doing the same in the 11 to 12 years division. The Mangakino rider took his Honda CR85 to five straight wins, ending the weekend 19 points clear of Cambridge's Trent Collins (Suzuki RM85), with Oparau's James Scott (Kawasaki KX85) finishing third overall, 10 points further back.
Meanwhile, Atiamuri's Hadleigh Knight (KTM) dominated the premier 14 to 16 years 250cc four-stroke class, but even though he was obviously the fastest rider on the treacherous hillside track, he still had a few anxious moments, and with Chatham Islands rider Kairyn King (Yamaha) and Rotorua's Nathan Henderson (Kawasaki) keeping him honest it wasn't until the fifth and final race of the weekend that he was able to clinch the crown.
Waikato's Josiah Natzke was unbeatable in the 12-14 years 125cc class, powering his way to a Yamaha 1-2 at the top of the division and finishing a solid 15 points ahead of his nearest rival, Ngatea's Benjamin Broad. Third overall in this class was Onewhero's Jayden Turnwald (Suzuki RM125), finishing 25 points behind Yamaha's Broad.
Ten-year-old Grason Veitch (KTM 85) won the 8 to 10 years 85cc class, the youngest of the championship categories.