Tauranga driver makes early impact on Porsche Super Cup champs with top-10 finishes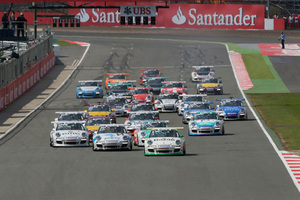 Young Kiwi driver Richie Stanaway is making people sit up and take notice after just two rounds of the 2013 Porsche Super Cup championship.
The Tauranga driver has shown he can mix it with the very experienced field, and now sits fifth overall, leading the rookie standings - even though he says he's yet to come to grips with the car.
Stanaway's background is in open wheel racing, and before his massive crash at Spa Francorchamps in 2012, he'd won at least one race in every category he'd contested.
Having fully recovered from his back injuries his management team, Gravity Sport Management headed by Lotus-Renault Formula One team principal Eric Boullier, decided the best option was to sign with the French DAMS outfit.
The team has had great success in single-seaters and wanted a rookie who was fast straight out of the box. In the opening races of this year's Porsche Super Cup, a support category at the European rounds of the Formula One world championships, Stanaway has qualified inside the top 10 and then gone on to finish inside the top 10 on race day.
"I haven't spent much time in the car and I'm still trying to figure out how it works," said Stanaway.
"Taking everything into consideration, finishing inside the top 10 in my first two races in the class is, I suppose, very good and I'm now the top rookie.
"Oh, and by the way, the other rookies have had experience in various Carrera Cup championships around the world, whereas this is my first time in one of these cars."
That's just the thing you have to keep in mind when looking at Stanaway's results in the top echelon of Porsche racing. Many countries have their own national Porsche championships, but the Super Cup is the only global competition.
For Stanaway to be challenging drivers with years of domestic experience, let alone a few seasons in the Super Cup, is something of an eye-opener. Especially with how differently a Porsche Super Cup car performs considering what he's been used to racing - Formula Ford, TRS, F3, GP3 and Renault 3.5.
"It's a lot harder racing these cars than it looks. You can't just jump into one of them and end up on the podium straight away.
"I'm doing what I have to be doing at this stage in the season, but later on in the season I can't use the excuse I don't know what I'm doing.
"As the season goes on I have to move further and further up the grid and I want to be on the podium by the end of the year, and if I can get that it'll be a job well done.
"It's not going to be easy but I'll give it everything I can," said Stanaway.
The word around the traps is that it takes at least a season for drivers to come to grips with these cars and get the best out of them.
The regular drivers in the championship had their normal five to seven days testing before the season started, unlike Stanaway who had date clashes and car issues.
Much to chagrin of his fellow competitors, if indeed they find out, Stanaway is getting five days of testing in the run-up to the next round of the series at Silverstone, England, June 28-30.
"Any previous race results I've had in the past are irrelevant in this type of car. I've never been one to take a long time to get up to speed in a new car and while I'm sort of doing okay in the Porsche, I'm not where I want to be. These cars genuinely take a long time to learn how to keep them on the limit. At the time they are very strange to drive and need a lot of learning.
"I'm really looking forward to my four or five days' testing as then I'll have had as much as the other drivers," said Stanaway.
A scary thought one would imagine for the rest of the field. When Stanaway gets his head around how to pedal a Porsche cup car on the limit, it won't be too long before he's standing on the podium.
Points after two rounds
1 Sean Edwards-40
2 Kuba Giermaziak-32
3 Michael Ammermuller-32
4 Nicki Thiim-26
5 Richie Stanaway-16
6 Klaus Bachler-15
7 Jeroen Bleekemolen-14