Kiwis spoilt for choice with grunty new models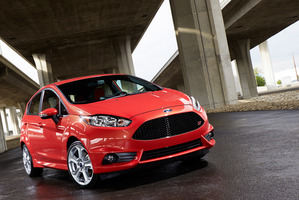 Once upon a time, a carmaker thought it would be a good idea to take a humble family hatchback and add some fizz with a powerful engine and sporty suspension.
The hot hatch was born and has been a favourite of enthusiasts and family buyers alike for nearly four decades for its combination of giant-killing performance and handling with uncompromised practicality.
The good news is that there's a bumper crop of new hot hatches for New Zealand buyers: some just landed, some on the way.
By the way, the car generally regarded as the first hot hatch was the Volkswagen Golf GTI of 1975. There's a new seventh-generation version of that car coming too.
AUDI S3 SPORTBACK
How hot, how much? 2.0-litre turbo with 221kW/380Nm, 0-100km/h 4.8sec, $83,700.
The S3 is quite, quite mad: near-supercar performance in a quietly unassuming package.
We drove it in three-door form earlier this year in Germany, but by the time the S3 makes it to New Zealand it will have grown another couple of doors and become a Sportback.
The S3 will come as standard with the S-tronic dual-clutch gearbox and quattro four-wheel drive. It has the same extremely high level of cabin trim as the rest of the A3 range, the difference being that you grip the steering wheel a lot tighter. A lot.
FORD FIESTA ST
How hot, how much? 1.6-litre turbo with 134kW/240Nm (149kW/290Nm on overboost), 0-100km/h 6.9sec, $34,990.
We hate to play favourites, but the Fiesta ST is arguably the hot hatch we are most excited about driving. Ford's ST credentials are now well established following the launch of the Focus ST. The Fiesta has much in common with that car: a high-powered EcoBoost engine, conventional (some might say "proper") manual gearbox and a great base car to build upon.
However, the Fiesta ST is also smaller, lighter, undoubtedly more nimble and has the potential to be even more fun because it doesn't have to pretend to be at all grown-up. The steering, suspension, brakes and stability control are all modified for this car compared with the standard Fiesta.
HOLDEN BARINA RS
How hot, how much? 1.4-litre turbo with 103kW/201Nm, 0-100km/h 7.5sec, $27,000 (est).
A Barina with an interest in body-building? Yes, it's real. Holden looks set to bring its own version of the American-market Chevrolet Sonic RS to New Zealand later this year. It won't necessarily give you whiplash, but it does seem to be a properly developed hot hatch: the engine is from the previous-generation Cruze iTi, while the six-speed automatic has revised ratios.
The RS rides on lowered suspension, wears a body kit and features a flat-bottomed steering wheel and sports seats. The car is yet to be announced official so we can't give you a price, but we heard a whisper about the pricing.
KIA PRO-CEE'D
How hot, how much? 1.6-litre turbo with 150kW/265Nm, 0-100km/h 7.7sec, price TBC.
The Pro-Cee'd is a hot hatch based on the European-market Cee'd a variation of the small car we see here as Cerato. Now, Cee'd was never intended to find its way to this part of the world, but Kia Australia has not been able to resist giving its range a bit of a hurry-up and has confirmed a limited run of the Pro-Cee'd for later this year.
Kia New Zealand is not as keen to go public, but we'd be very surprised if you don't see this 150kW machine on the local price list on indent order at the very least.
MERCEDES-BENZ A45 AMG
How hot, how much? 2.0-litre turbo with 265kW/450Nm, 0-100km/h 4.6sec, $94,900.
Maybe Audi isn't so mad after all. AMG: you might remember them from such cars as monster V8 sedans and crossovers. Well, when AMG turns its hand to a hot hatch you get the world's most powerful production four-cylinder engine and a small car that's been thoroughly redeveloped with bespoke steering, suspension and braking systems.
The A45 AMG also picks up full-time four-wheel drive; partly because AMG does not have warm feelings about front-drive cars, but also because 265kW would be impossible to deliver without it.
NISSAN PULSAR SSS
How hot, how much? 1.6-litre turbo with 140kW/240Nm, $39,990.
We told you lots about this car already. What we haven't done is drive it, but that'll come very soon.
The Pulsar SSS brings back an iconic badge (well, two if you want to be really pedantic) and produces plenty of power and torque. The tricky bit might be the continuously variable transmission (CVT) that comes as standard with the car, which is an unusual choice for a performance car.
But like we said, we'll let you know ...
PEUGEOT 208 GTI
How hot, how much? 1.6-litre turbo with 147kW/275Nm, 0-100km/h 6.8sec, price TBC.
Peugeot is mentioned more than any other yes, even VW when talk turns to the greatest hot hatches in history. The 205 GTI of 1983 is still regarded as one of the very best
in terms of styling, performance and especially dynamics. Which means that, rather unfairly, every GTI the French maker has created since has been compared with the 205. Often unfavourably.
If overseas reports of the 208 GTI are anything to go by, Peugeot is back on form. While denying that it's a reboot of the 205 GTI (but also including some 205-esque details such as the chrome strip underneath the side window), Peugeot has injected some of the old spirit into its newest performance model.
RENAULT MEGANE RS RB8
How hot, how much? 195kW/360Nm, 0-100km/h 6.0sec, price TBC.
So, the Renault Megane RS you know already: it's absolutely brilliant. The forthcoming RS Red Bull Racing RB8 special edition celebrates Renault/Red Bull's third Formula One Constructor Championship by adding extra colour and equipment.
Sadly, the RS does not go any faster in Red Bull guise, but it does stop more frequently: it's the first Megane RS to be fitted with a stop/start system, which improves fuel economy to 7.5 litres per 100km. The car is based on Cup chassis specification. The car's exclusive Crepuscule blue paint is inspired by the team's racing colours, it has racing graphics, grey detailing, 19-inch black wheels with grey striping and Red Bull branding on many interior elements. The RB8 also introduces the R-Link multimedia tablet system.
SUZUKI SWIFT SPORT
How hot, how much? 1.6-litre with 100kW/160Nm, 0-100km/h 8.7sec, $25,990.
Crimes against the Sport badge are many among mainstream makers. But Suzuki keeps it real with the wonderful Swift Sport, which feels completely different to a standard Swift because it is, with an engine, gearbox and suspension all configured for driving fun (if not ultimate speed).
The new three-door version will sell in limited numbers but all the better: it looks fantastic and it's only available with a manual gearbox, thereby assuring the outside world that you have not opted for the CVT option offered on the five-door.
VOLKSWAGEN GOLF GTI
How hot, how much? 2.0-litre turbo with 162kW/350Nm, 0-100km/h 6.5sec, price TBC.
The seventh-generation VW Golf has already scooped European car of the Year and World Car of the Year for 2013 so the forthcoming Golf GTI will be nothing short of brilliant, continuing with a linear turbo engine and slick-shifting DSG transmission.
Power is up by a few kW, but torque has been boosted 25 percent. There's a new progressive power steering system and VW's electronic differential that helps the front
wheels get the power to the ground in tight corners. Shows what you can do with 38 years practice.