Car owner furious over stressful fight to clear his name after insurance firm given false information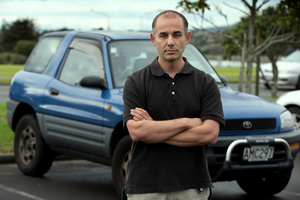 It started with a letter, accusing him of something he didn't do.
And then, after a week of sleepless nights, stress and frustrating phone calls, William Girimonti was finally cleared.
The nightmare began last Friday when Mr Girimonti received a letter from AA Insurance which stated: "Our customer's vehicle was damaged in an incident involving your vehicle. From the information provided to us, we are holding you liable for these damages."
The North Shore man was shocked - he was with his family at the movies when the incident happened.
"I called and I asked him 'you have any proof it was my vehicle?'. He said: no, we don't need any proof. We have a customer that has reported your vehicle in a hit-and-run with their vehicle."
Mr Girimonti was told there was video footage provided by the body corporate where the incident took place.
"He said he hadn't seen the video or received it but he could ask for it if I liked. He then told me that it's not uncommon that people have an accident and don't realise and keep driving."
Mr Girimonti asked for the contact number for the person holding the footage and made contact himself.
"The body corp guy said he had looked at the video and he could see on it that my vehicle was in the vicinity - but it was not the vehicle involved in the incident. The car that was involved looked similar to mine though, almost identical, but it had mag wheels and was driven by a lady.
"He told me that he could not see the licence plate for that [offending] vehicle, that he could only see mine nearby. He told the driver that."
After that information was relayed to AA, they conceded Mr Girimonti was not liable.
"I'm livid ... I'm reeling. They accused me of something I had nothing to do with and that was wrong," he said. "It's been really stressful. I've lost sleep over this ..."
After inquiries by the Weekend Herald yesterday, AA admitted they had handled the situation badly.
"We're very embarrassed," said head of customer relations Suzanne Wolton.
"The letter that was sent was not the right letter. The correct letter should have said the information we received suggested that you or the driver of your vehicle ... were responsible for this accident. Then it would have asked Mr Girimonti to contact us," she said.
"There were a couple of other things we didn't do right either. The whole thing is our fault.
"We apologise unreservedly, and we have apologised to Mr Girimonti. "It was a mistake."