BMWs personify our natives, says artist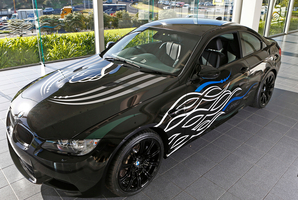 BMW Group New Zealand and renowned local artist Shane Hansen have collaborated to produce a unique artwork portraying two native birds in their natural environment. Entitled Native Aotearoa, Hansen's striking visual artistry adorns a new BMW M3 Pure and BMW X5 Performance Edition, both of which will tour BMW dealerships with the two original artworks that inspired them.
As part of the tour, limited edition Hansen prints of the large originals will be available for sale, funds raised to be donated to his charity of choice, Forest and Bird New Zealand.
"Shane's contemporary art is highly recognisable, thanks to his ability to weave bold colours and Maori motifs into New Zealand inspired imagery," said Nina Englert, managing director of BMW Group NZ.
"Shane's support of Forest and Bird also aligns with our sustainability initiatives. Not only is BMW Group the world's most sustainable automotive manufacturer, but thanks to BMW EfficientDynamics technologies, all new BMW models use less fuel and create fewer emissions, which is ultimately a win for our native flora and fauna."
For Hansen, the decision to pitch his idea to and partner with BMW was an easy one, as he had a clear idea of which vehicles would personify the qualities and attributes of his chosen subjects, a tui and a kotuku.
"If the tui were a car, the M3 Pure Coupe is what he would be, as this car exudes attitude, just like our native, with the aggressive front headlights and signature BMW kidney grill, reminiscent of the tui's fierce glare and strong, chiselled beak," said Hansen.
"I wanted to show forward motion with the artwork and real acceleration, as if the tui was in turbo drive, wings tucked in, jetting across a narrow valley. The M3 handling echoes that of our native - fast, effective and truly mind-blowing while the twin exhausts mimic the tui's own twin voice box," said Hansen.
"The tui is the Top Gun of the avian world, with incredible acceleration and dynamic handling and is engineered to excel in his environment. The M3 Pure Coupe was the obvious choice to represent this iconic New Zealand native."
The second artwork depicts the kotuku, our largest native bird, so using the biggest BMW SAV as the canvas was a logical fit.
"The kotuku, in many ways, is an avian version of the X5 Performance Edition. Both instinctively attract gazes wherever they go and have luxury as a standard offering. They carry their size in a very well refined, streamlined package and have a particular presence and striking beauty about them.
"When kotuku spread their wings to take flight, their majesty and understated royal quality are on show, truly a sight to behold, so in my eyes the kotuku is our native version of the X5 Performance Edition."
Shane's Native Aotearoa collection, consisting of both cars and the two artworks, will tour BMW dealerships starting in Auckland next week.
Entry to the exhibition is free. The tour finishes in Dunedin at the Cooke Howlison BMW dealership on August 16.