Kiwi drivers shone on the world stage at the weekend, writes Eric Thompson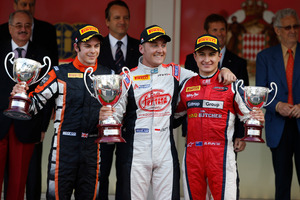 There were a number of New Zealand drivers competing in international events over the weekend and all acquitted themselves very well indeed.
Two podiums for Evans Aucklander Mitch Evans has his GP2 championship back on track after two great podium finishes on the tight, twisty and unforgiving streets of Monaco at round four of the series.
After two dismal rounds where he scored no points, the rookie, and youngest driver in the field, posted two third places to move up the table from 12th to seventh, four points off fourth place.
"It's a double podium in Monaco. It's very special for my first time here in GP2," said Evans. "I cannot wait to get to the other tracks and hopefully we can continue this momentum."
In race one Evans rocketed away from P2 in one of the fastest recorded starts in the series to head teammate Jonny Cecotto into turn one, only for Cecotto to outbrake himself and spear into the wall, causing nearly half the field to crash.
On the restart Evans bounced out to lead again, but by race end had slipped to third place behind Kevin Ceccon and race winner Sam Bird.
"Second was definitely possible so I'm a little bit disappointed with having finished only third. The past two races have been really bad, so to be on the podium in Monaco is very special. It's amazing. I'll take it," said Evans.
For the second race, Evans started from sixth and after another rocketship start snatched two places and then was soon into third. Stefano Coletti took the win and despite hassling Adrian Quaife-Hobbs, Evans had to settle for third.
"I knew the podium would be a long shot so I thought, if I could get a good crack at the start, then maybe we can make up a few positions. Yesterday I had a really good launch and the grip stayed with me and I managed to pass a couple of cars around me," said Evans.
The Kiwi's next race is at Silverstone, England, on June 28 to 30.
Lester's clean sweeps
New Zealand sports-car driver Jono Lester cleaned up at the South Korean round of the Super Taikyu Series at the new Inje Speedium to lead the championship with maximum points.
Lester and teammate Fariqe Hairuman scored both pole positions, both races wins, both fastest laps, and set the lap record.
"This was always our goal, but it's still such a brilliant feeling to pull it off and give our championship hopes a major boost," said Lester.
The event format saw two 45-minute sprint races instead of the usual endurance format, allowing Lester and Hairuman a race each behind the wheel of the car. Hairuman took a convincing victory in the opening race before Lester gapped the field in the second to win by more than 17 seconds.
"Being the bridesmaid in 2012 [series] was motivation enough to up our game for this season, and we have set the tone for what I hope will be a season of wins for myself and the team," said Lester.
Their next race is the Five Hour at Motegi, Japan, on August 10 to 11.
Stanaway hot qualifier
One of our leading open-wheel racing exponents has moved into top racing this year and continues to impress. Richie Stanaway signed on the dotted line with French outfit DAMS to race in the Porsche Super Cup as a support class to Formula One and was in action over the weekend at Monaco.
In his first outing in the car at round one in Spain, Stanaway made everyone sit up and take notice by qualifying sixth and finishing ninth. Just to prove it was no flash in the pan, Stanaway took to the streets of the principality again, qualifying in sixth and went on to finish seventh this time. He leads the rookie standings and is fifth in the overall championship.
"I'm relatively happy taking all things into consideration," said Stanaway. "I just need to keep improving as the season goes on so that hopefully I can start mixing with the experienced guys right at the top.
"This car is so different to anything I've ever done before so it's just going to take some time. For now I'm just focusing on doing the best job I can."
Average race for Dixon
The 2008 Indianapolis 500 winner, Kiwi Scott Dixon, knew he didn't have the car to threaten the Chevy-powered frontrunners at the 97th running of the Indy 500. He did hope, though, for a bit of luck and that consistency might pay off, where in fact out-and-out horsepower was needed.
Dixon has bemoaned the fact the Honda-powered cars in this year's field don't have the grunt to take it to the Chevy cars, as was evident by the first seven cars all powered by Chevrolet engines. Dixon could only manage a solid 14th after 200 laps of racing and it was the evergreen Tony Kannan who won his first Indy 500 after 12 years of trying.