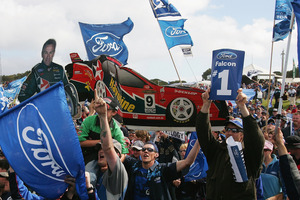 It was news that struck deep into the hearts of motorsport fans on both sides of the Tasman.
US car giant Ford announced this week that its manufacturing plants in Australia will close, and that means the end of the Ford Falcon.
Ford Australia president and chief executive Bob Graziano said, "the Falcon name is inextricably linked to Australia and to being produced here - we will retire the name when we retire the vehicle".
I'm not a huge fan of motorsport, but if forced to pick a side, I would be a Holden girl. When I first came to Auckland, I was given a Clubsport as a company car and I loved it.
My inner bogan was given free rein in the grunty V8 and it made driving a pleasure rather than a means of getting from A to B. Falcons seemed so tinny by comparison.
But I have respect for Ford. To see the Falcon marque go brings me no joy.
It's like Celtic fans seeing Rangers go down the gurgler; All Blacks fans watching the Wallabies wither and weaken.
To have a healthy competition, you need a great competitor and the battle between Holden and Ford in the V8 Supercar series has been fierce.
Hopefully, the series will continue with or without Ford cars on the grid but that remains to be seen.
In the meantime, farewell to the Falcon as its familiar silhouette goes to the great junkyard in the sky.