Heated seats boost the cold weather comfort factor on this big Triumph, writes Jacqui Madelin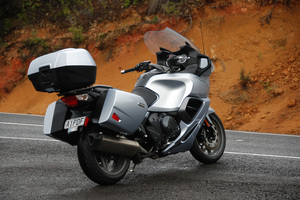 God emptied his cosmic bucket on Auckland the day I collected Triumph's Trophy SE, water coming down so thick and fast the motorway disappeared, signs receded into the murk and cars pulled over to wait.
Me? I switched the heated seat to high, set the heated handlebar grips to "toasty", and flicked the switch to lower the windscreen enough to see over it, as rain sluicing both screen and visor cut vision to an unacceptable degree.
Then I dialled the radio to a news channel for the weather forecast and pointed the Trumpy's nose east, towards a brightening sky.
Given bad weather and a deadline, a top-spec tourer is the way to go; you'll still get wet but your luggage, snug inside lockable panniers, stays dry while your warm butt and fingers create an illusion of comfort to keep your brain on the job.
Which is fortunate, for when the tyres began to aquaplane and the 301kg behemoth to weave sinuously down the road, my reflexes remained sufficiently sharp to recover the mighty beast, aided by the Trophy's wide bars, beautiful balance, and a set-up that stresses control and underplays weight.
Without heated grips my hands would've been too numb to respond at speed, but what happened to the stability control that should help keep the big bike upright? Seems that while setting the electronic suspension from "two passengers and luggage" to "solo rider" I'd also accidentally disabled it, leaving me in sole charge of this $36,990 machine. Perhaps next time I'll read the instructions, but I was too keen to get going - eager to see how the Explorer's 1215cc three-cylinder engine would work in a tourer.
Triumph altered the engine's tune for this application to deliver a whisker less power over a broad rev range, with 100Nm of the 120Nm total on tap anywhere from 2500 to 9800rpm, neatly overlapping the 8900rpm at which the 99kW power peak arrives.
While not keen to get too vigorous with the throttle in the wet, I soon confirmed the Trophy pulls strongly from low revs, isn't too fussed about inept gear choice, and will cruise comfortably at 100 for hours, which is handy given the 4.7l/100 average I achieved allows over 500km on one 26-litre tank.
The Trophy's designed as a tourer capable of corner carving, with steep lean angles promised. It certainly feels stable at even slow speeds but it's a bit less tractable when you stop, for it carries its 301kg a tad high for this short rider, even with the 31-litre panniers and optional ($948) 55-litre top box empty.
And unlike Honda's admittedly much heavier Goldwing, there's no reverse. It doesn't have many of the Honda's other goodies either, but the trade-off is the lighter weight, and enough features to please most. There's that radio, the heated seat and grips, Bluetooth, a USB port and iPod compatibility, a tyre pressure monitoring system and a power socket in the glovebox to charge your phone, plus one of the best screens in the business. At least, the $549 after-market touring screen is. It's wider and taller than standard and adjustable across a super-wide range to suit both shorties and beanpoles.
Were this my bike I'd spring the $669 for the heated rider seat and $379 for the grips, plus that screen; I'd dispense with the top box as the panniers carry enough for most purposes, and negotiate favours from my pillion in exchange for the $599 heated passenger pew.
Then I'd wait for a fine day to ride it - for though it proved a well-specced tourer and is perhaps the only bike to manage a deluge in reasonable comfort, those conditions were far from a two-wheeled touring ideal.